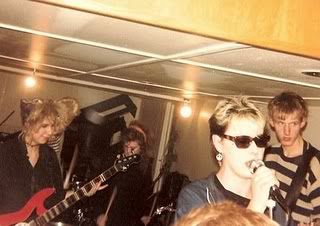 Beware, there are deluded "
twee
" apologists aplenty who've convinced themselves that Edinburgh's mighty Shop Assistants are one of
their
bands. Fortunately, as per most of the C86 acts, these pre-pube hairgrip-sporting juves are seriously mistaken - the Shoppies (
sorry
) may have apologetically shambled but they also gloriously ROCKED, & never more so than on their two classic Peel sessions. Though I still dig their 7"s out occasionally, I hadn't heard either of these Beeb sets for ages. Listening to them I was briefly transported back to a mid-80s D.I.Y. netherworld of hissy late night FM, scuffed leathers, tatty denim, hoarded stacks of old NMEs & parties in damp 'n' dingy council flats. Heaven, basically. Sadly, Tallulah fucking Gosh & their paedo-lite ilk eventually crashed the party, totally missing The Point & ruining
everything
- they didn't like those horrid A Witness or Five Go Down To The Sea records
at all
, ma'am. Seriously though, if you've yet to hear Alex yelp her way through "Ace Of Spades" then you're honestly in for a bit of a treat...
Shoplifting