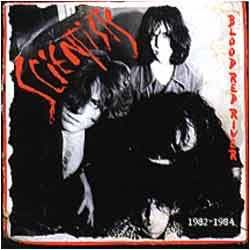 I can still remember my first encounter with the Scientists pretty vividly. I'd gone to see The Gun Club - touring The Last Vegas Story & fresh off of a 2-song slot on The Tube (which somebody had conveniently uploaded to Youtube last time I looked) - at Nottingham's notorious Rock City &, sloshed on cider & attempting to not piss on my careworn winklepickers, I heard the first growls of the unbeknownst support band from my porcelain vantage point. I'd noticed a short article about them a couple of weeks earlier in the NME but hadn't paid it too much attention & was expecting yet more pale & uninteresting Sisters Of Mercy clones - another miserable Flesh For Lulu or Skeletal Family. Their stuttering, shuddering pre-song tune-up had me zipping up my PVC trews with reckless haste & barging my way stagefront in no time (it wasn't much of a barge tbh - I remember the venue still being half full tops). They looked startling: a wholly alien hybrid of scruffy Detroit hairdos, psyched-out vintage shirts, scuffed 'pickers &, man-oh-man, tatty Levis hipsters the like of which we had never laid our gothic eyes on before (
they did the alterations themselves apparently
!). I don't remember too much in the way of specific details, 'cept that the first song was "Nitro" & that vocalist / guitarist Kim Salmon quite rightly reprimanded some chattering goth harpy for sniggering at the title of "Murderess In A Purple Dress". Oh, & that they were jawdroppingly awesome. Love at first sight basically. I made a beeline into town & bought their Blood Red River & This Heart Doesn't Run On Blood, This Heart Doesn't Run On Love MLPs the following morning & I still own them both, along with everything they subsequently released & a few earlier bits 'n' pieces also (I'm particularly proud of the Rubber Never Sleeps cassette). They remain one of the few (possibly only) bands I've ever sent a genuine fan letter to. It took almost a year to arrive but when it finally did - Kim Salmon's spidery scrawl in green ink on Scientists' headed notepaper - I was secretly rather flattered. Which is why I've never thrown it away.
To save time &,
frankly
, effort I'm linking to the thoroughly excellent
Rogkentroll
blogspot who've uploaded the expanded CD reissue of Blood Red River - no idea where it came from, I've only ever seen it online - complete with 50% of This Heart... (unfortunately shorn of the terrific "Crazy Love") plus the Happy Hour & We Had Love 7"s. Consider my kinky titfer doffed, Roggers.
Nitro