A decade into the 21st century & it definitely seems that most enigmatic of all musical enigmas, The Residents are working their way up to winding down - entering their 40th year, they've recently hinted that their touring days are coming to an end (
presumably
theirfinancial raison d'etre for the last 20 years as nobody
I
know rushes out to buy their records anymore?) & several intriguing little insights into their collective past(s) & working methods have been leaked onto the 'net (if you can be arsed to dig around a little bit) that suggest they're possibily preparing to finally reveal their identities (!) & bow out. It's already been established that one of their number has actually been female all this time, an eventuality which makes perfect sense in retrospect but which nobody (
including me
) seemed to consider until the evidence was literally stuck under their noses. And those holiest of all Residential Holy Grails, the Warner Bros Album & Baby Sex tapes, are both floating about on the blogosphere if you know which stones to turn over (not that I'm suggesting The Residents themselves have sanctioned their release, you understand, in fact I get the distinct impression that they're pretty miffed about their sudden blanket availability).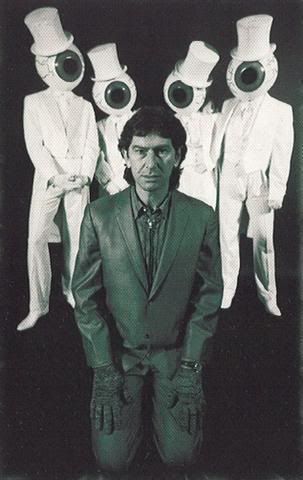 It was coming across those 2 legendary,
scarce-as-shark-dentures
tapes recently that spurred me onto recently spending virtually an entire week listening to nothing but my Residents records (plus various odds 'n' ends I'd found on the 'net) - not as difficult as you might imagine once you're started, simply because there's
so much
of it! And once I'd worked my way through that lot, I started on Snakefinger. Given name actually Phillip Lithman, Snakefinger was a cohort and frequent collaborator with The Residents back in their early years of complete obscurity & right through the demented heyday of Ralph Records, a label so prolific that they seemed to be releasing an LP a week at their 80s peak. Born in South London in 1949, Lithman had come up through the British Blues scene in his teens before moving to San Francisco at the end of the 60s & ultimately befriending the fledgling Residents (still unnamed at that point of course). Returning to London in 1972, he formed the pub rock band Chilli Willi & The Red Hot Peppers along with fellow guitarist Martin Stone (of Savoy Brown & Mighty Baby) and members of Brinsley Schwarz (including Nick Lowe) but, following their punk-inspired break-up, returned to San Francisco seeking a recording contract circa 1976. Re-establishing links with The Residents by providing snakey guitar licks as a 'guest performer' on several of their landmark recordings, the band (wanting to move into producing other acts) experimentally took Lithman on as a protege & promoted him as a solo Ralph artiste in his own right, resulting in a handful of very strange Residents-produced LPs (Chewing Hides The Sound, Greener Postures, Manual Of Errors) & the terrific translucent blue 7" below (if the music's not to your taste at least the sleeve might raise a confused smirk!). Always more comfortable as a live performer, Lithman later formed The Vestal Virgins with Eric Drew Feldman (of The Magic Band) & it was while on tour with this band in Europe in 1987 that he suffered a fatal heart attack (following a long history of heart problems) aged 38, the same day his latest single "There's No Justice In Life" was released. Irony is a harsh mistress.
Smelly Spot