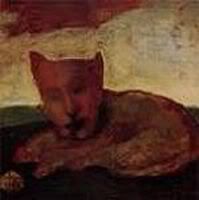 Such a
fantastic
single I had a serious thing for
Gastr Del Sol
way back when &, unlike David Grubbs' earlier Bastro & Squirrel Bait outings, I can still spend an hour or two listening back to their stuff now. There's certainly nothing embarassing about this little gem - a lowkey 7" follow-up to their formative (but nonetheless
v.
mpressive) full length
Teenbeat
debut The Serpentine Similar (1993) - in fact it's
such
an enormous leap forwards it's actually a little bit scary. It certainly remains a startling listen - moreso considering that Jim O'Rourke had only just begun to make his presence felt on Grubbs' increasingly leftfield mojo at this juncture. In hindsight, it
does
feel like Grubbs was replacing his (acknowledged) Albini worship with,
erm
, Tony Conrad worship (of course, Gastr ended up collaborating with Conrad a couple of years' hence on 10 Years Alive On The Infinite Plain EP). Incredulously, 20 Songs Less is long OOP & is still unissued on CD (as far as I'm aware, prod me if I'm mistaken) - nowt as queer as (neo) folk, eh?
(N.B. A tip of the hat to original poster.)
Grubb it