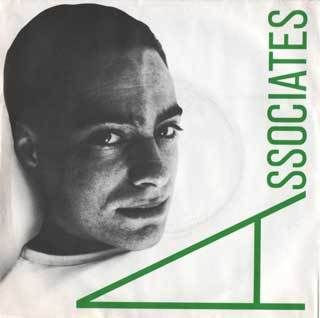 A curious one this, if you're an Associates completist anyway (& obviously you
should
be). An archetypal "
45 from the album
" job, taken from The Associates' debut LP The Affectionate Punch, this 12" was opportunistically knocked out by former label Fiction once Mackenzie & Rankine had jumped ship for Situation 2. Released in September 1981 alongside the series of unprecedented 45s that eventually became Fourth Drawer Down, both songs here have been noticeably remixed from the original versions. Later, in the wake of the mighty Sulk, The Associates themselves remixed The Affectionate Punch in it's entirety to middling effect (some of it improves on the original versions, most of it doesn't). The versions here, however, are not -
repeat NOT
- from that album, though they do sound suspiciously like dry runs.
This
take of "A" here, though very similar to the definitive redux mix (it's the one instance where the remixed version totally usurps the anaemic original), benefits from some Low-esque drum FX & generally seems slightly pacier. "Would I... Bounce Back?", however, is totally different - dig that Barry-esque guitar line, etc. Both sides of the 12" were overlooked when all of the Mackenzie/Rankine-era back catalogue was re-released back in 2000. The cover star, incidently, is bassist Michael Dempsey, also of The Cure, The Lotus Eaters & Avalon-era Roxy Music fame.