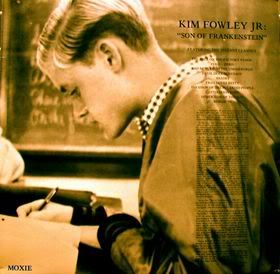 Another typically fucked up opus from the Marquis De Fowley (no idea where the "Jr." suffix came from btw, record company hassles maybe?). Modus operandi (allegedly): (i) book a budget studio (or record during the downtime of one of your current projects & invoice your eager proteges' unwitting benefactors), (ii) regurgitate a few surefire/oft-used examples of garage punk riffage, (iii) drag your latest jailbait arm candy into the studio & get her wrecked, (iv) then flip the mental "on" switch & let that non-stop stream of consciousness mind lava f-l-o-w. Fowley's content to yatter to himself for the most part on this one - the two confused hemispheres of his mangled brain attempting to communicate with each other initially but inevitably pissing each other off & jousting for supremecy by side 2. Actually, considering it's 1981 vintage, this is one of his more listenable works - much of it sounds relatively ad hoc but Fowley's evidently in high spirits throughout so even the weaker tracks are entertaining (
which is what it's all about, eh Mr Impresario
?). I've not entirely sure what he's rambling on about most of the time & I suspect he doesn't either, but he manages to be witheringly sarcastic & engagingly earnest simultaneously - without sounding like a total fucking idiot - which is pretty impressive. I wouldn't be surprised if he's the kinda guy who laughs at his own jokes though...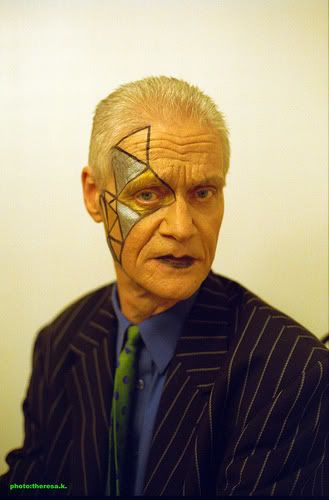 Released c/o the uber-obscure Moxie label,
Son Of Frankenstein
is split evenly between guitar-driven proto-punk songs & synth 'n' poetry improvs. The opening "Face On The Factory Floor" is one of my favourite Fowley songs
ever
, & you might recognise "Invasion Of The Polaroid People" from Add N To (X)'s cover on their Loud Like Nature LP which utilised generous chunks of the Fowley original as "
inspiration
". A couple of things I didn't know about him (which cropped up when I was perusing his Wikipedia entry): he produced the first Soft Machine 45, early Slade (aka N'Betweens)
&
(!!) Helen Reddy. Though he's now undoubtably attained the legendary status he always designated to himself anyway, I'm still not convinced he's the sort of feller I'd invite back for a post-gig tipple...
N.B. Acknowledgment due to
FM Shades
for this one.