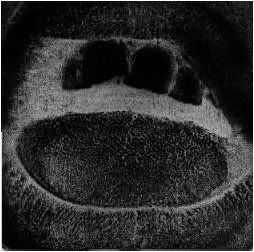 Bagged myself a copy of this one back in 1989 c/o Nottingham's world famous (& soon-to-be-deceased) Selectadisc emporium. I was on a psyched-out noise kick at the time, subsisting on a diet of tea & toast & listening to w-a-y too much Terminal Cheesecake, Walking Seeds & Godflesh (having already passed through the jampacked Sonic Youth>Butthole Surfers>Big Black enclosure) &, erm,
doing very little else
. Thank God for the dole, eh? Anway, I spied this odd-looking LP loitering alone & unloved in some crusty rack or other & bought it simply because I liked the cover - "
It's either gonna be amazing or sound like a tenth-rate Black Sabbath
" I assured myself - & because it had apparently been beamed in from another dimension (no reviews in the music press 'til later on). It seemed like it was my destiny to own it &, as I was to find out once I'd lugged it home, it was almost certainly the
heaviest
thing I'd heard at that point...
Formed in 1985, Skullflower (circa
Form Destroyer
) were Stefan Jaworzyn, Matthew Bower & Stuart Dennison, though the former quit soon afterwards. Gary Mundy (Ramleh) & Philip Best (Whitehouse) were also occasional members at this point, I believe. Jaworzyn's involvement intrigued me more than anything as, at this time, he was the provocatively opinionated benefactor of Shock Express magazine & the Shock label (c/o whom the next couple of Skullflower releases emerged) who had already had the dubious honour of having an "
English Albin
i" tag bestowed upon him. Choosing to use traditional "
rock
" instrumentation (rather than the tapes/synths favoured by their industrial contemporaries), Skullflower were a fundamental influence on Godflesh & the like &, by degrees, semi-repsonisble for the current wave of avant metal (Sunn O))), et al) I guess? Long unavailable, Form Destroyer was released in a single edition of 1000 copies on the seminal industrial noise label Broken Flag & still sounds absolutely
M A S S I V E
...