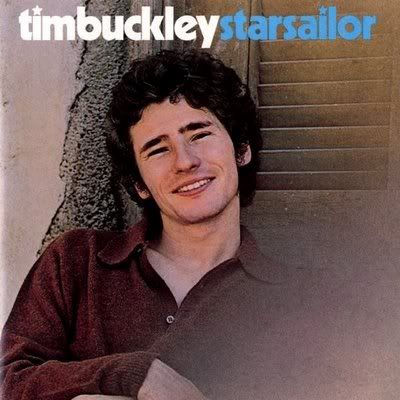 Like most o' yers I expect, my attention was originally drawn to Tim Buckley by This Mortal Coil's 1983 cover of Starsailor's "Song To The Siren" (#66 with a bullet, folks!). It being Cocteaus-related, Peel played it to death on his evening show &, despite my initial reticence (it didn't sound like The Fall
or
Captain Beefheart for God's sake!), I inevitably ended up loving it, though the appeal of This Mortal Coil in general continues to elude me (afterall, a handful of decent covers does not a great band make).
I'd love to be able to tell you that my love affair with Buckley's Starsailor began at that point but, of course, it didn't because it was already long unavailable, the legal straights at,
erm
, Straight Records ensuring that it remained unobtainable due to some litigious dollar-centric stand-off between label owners Frank Zappa & Herb Cohen (which is why you've ended up downloading Lick My Decals Off, Baby, An Evening With Wild Man Fischer
&
Buckley's Blue Afternoons from the 'net innit?). So I did the next best thing & bought everything else by him instead. Needless to say, it's
everso slightly frustrating
that Buckley's dual masterpieces, Starsailor & Blue Afternoons, only exist as prohibitively overpriced Ebay booty or bit-torrented blogload but, sadly, that's what happens when rock'n'roll surrenders to ugly commerce. Fuck 'em & download without prejudice I reckon, it's not like Tim needs the money is it...?
Released in 1970 (along with Blue Afternoons
&
Lorca -
blimey
!),
Starsailor
captures the moment 23 (!) year old Buckley's folk-rock origins were finally eclipsed by his interest inpoetry, avant jazz & leftfield rock. Branded inaccessable at the time & often written off as an unlistenable self-indulgence since, it's ironically nowhere near as challenging as the prior, troubled (& troubling) Lorca & actually sounds like a more ambitious, better executed attempt at the ideas initially expressed on Goodbye & Hello - it's certainly not the unapproachable excercise in freeform skronk & holler that some rock histories would have you believe. Basically, if you like the explorative jazz-infused folk of the Dream Letter live album you'll love this. And if the rest of it gets your back up, remember it's worth it for "Song To The Siren" alone (written, like much of Starsailor, with lyricist Larry Beckett) which Buckley actually debuted as early as 1968 on the very last episode of The Monkees t.v. show at Mickey Dolenz's personal request. One other thing that struck me when I listened back to the album before uploading it: "Starsailor" itself sounds
exactly
like the haunting outro of Lou Reed's "The Bed" from
his
masterpiece, Berlin (1972). Er,
gotcha
!
LINK REMOVED: The 4 Men With Beards label released an official vinyl-only edition earlier this year, & the complete album is also available c/o iTunes (£7 gets you the entire LP).