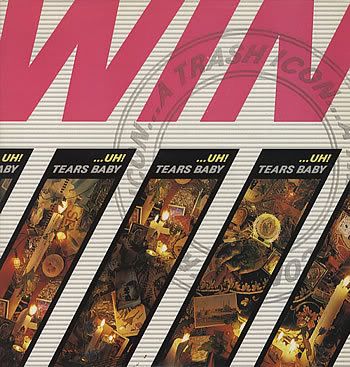 A marvellous record, providing you're partial to smartarse pop music with a spotless punk rock lineage & an ever-so-subtle line in rampant Beach Boys plagiarism.
And, frankly, who isn't
?
Win were Davey Henderson's solitary shot at bona fide pop stardom. Henderson, if you weren't already aware, spearheaded the fantastic Fire Engines in Edinburgh in 1979 - apparently galvanised in direct response to witnessing Vic Godard & The Subway Sect in 1977 - penning the ultimate post punk 7" ("Candyskin"/"Meat Whiplash" on Pop:Aural) along the way. The Fire Engines having burned themselves out by NYE 1981, Henderson briefly formed Heartbeat with ex-Flowers vocalist Hillary Morrison (their recorded legacy: one track, "Spooksex" on the NME's Racket Packet cassette). When that project folded, he subsequently put together Win (with a couple of his Fire Engines cohorts in tow), wangled a major label c/o Alan Horne's post-Postcard venture Swamplands (actually a London Records subsidiary), &
staggeringly
failed to set the top 40 alight. Despite their "
hot tip for 1987
" status, even their seemingly surefire "You've Got The Power" 45 flopped despite repeated attempts to barge it onto TOTP c/o innumerable re-releases & a very prominent lager ad.
Not that this makes Uh! Tears Baby (A Trash Icon) any less of a spectacular achievement, of course.
A wryly complicit, saccharine sick 80s hybrid of Bolan, Warhol, Wilson & Wham!, it really ought to be bracketed alongside Associate's Sulk as a deranged New Pop masterpiece. It's a shame that their covers of "In Heaven (The Lady In The Radiator Song)" & "The Slider" (b-sides both) weren't included on this jampacked CD, but as copies now go for £100+ on Ebay it seems rather churlish to yarp on about it...
After one other divebombing Win album (Freaky Trigger, definitely worth a listen or 30), Henderson steered himself offroad & into Neil Young's legendary post-Harvest ditch (er, Horne's fleetingly resuscitated Postcard
actually
) with The Nectarine No.9 (quite possibly the 90s greatest guitar-ist band) & is now getting it on with The Sexual Objects (3 singles & counting). Some people, thankfully,
never
learn.