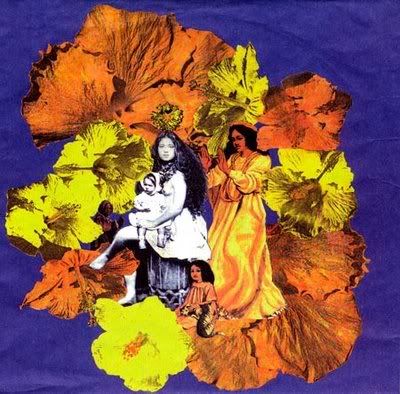 The Sundowners (named after the Robert Mitchum film presumably) was a semi-"secret" side project devised by the mindfuckingly beguiling Drag City organisation. Mistakenly pegged as a collaborative side project by Will Oldham & Smog's Bill Callahan* (they're actually responsible for a 7" apiece rather than appearing together, with
Edith Frost
steering the third*, I believe?) they pseudonymously released a trio of lowkey 7" EPs back in the mid 90s on Drag City's now defunct* Sea Note offshoot. Of the 3, only the inaugeral Goat Songs is out of print (hence it's inclusion here), due to of Prince Will's prominent presence no doubt. It comprises six short songs, all recorded in
dramatically reduced
circumstances, one of which ("Tonite Will Be Fine") manages to make Songs From A Room-era Leonard Cohen sound like Third Reich-era Residents (fine by me). Personally, I prefer Bill Callahan's installment - The Thing With The Girl In Her Hair, which you can still buy
here
- but Goat Songs takes me back to the time when I still hung on every off-pitch syllable that the infamously prolific Oldham issued. How times change. Less is more Will,
less is more
.
*Citation: It's Rachel Brooks from Movietone, not Edith Frost. It
is
an Oldham/Callahan collaboration afterall (according to Wikipedia anyway). Sea Note is not officially defunct.