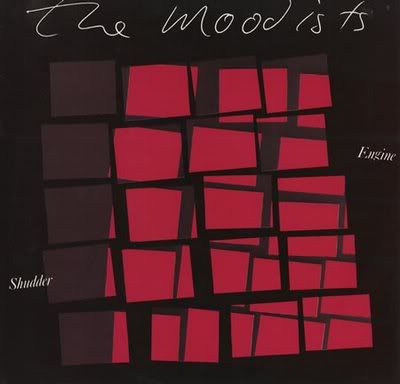 The Moodists are another of those
too unassuming for their own good
bands who got lost in Simon Reynolds' subjective post-punk reshuffle & who, woefully under-represented on CD, have since slipped into total obscurity. Tragic really because, for a while back there, it looked like they might achieve something like bona fide popularity on the back (
reluctantly
) of fellow Aussies The Birthday Party's dark reign back at the foot of the 80s. I
could
drone on through another clumsily composed career precis at this point, but Moodists' frontman Dave Graney (aka El Supremo King Of Pop, et al) was actually there of course, & has a much better way with words than me, so read
this
instead. He looks better in leather keks than me too, the suave bastard.
Engine Shudder compiles most (but not quite all) of their initial 7"s. Sadly their uber-scarce "Where The Trees Walk Downhill"/"I Should Have Been There" debut isn't included &, 25 years on, I've still yet to see a copy let alone hear it*. Despite plenty of press, some of it positive, the presence of Victor Van Vugt at the controls (he'd produce virtually all of their subsequent records) & Bleddyn Butcher's striking eye for a cover image, their one album proper, 1984's Thirsty's Calling, never really found an audience & thereafter the band seemed to lose heart somewhat - disillusioned, no doubt, by the lack of label support & the poverty-stricken living conditions they'd succumbed to. The following year's Double Life, another EP length round-up of singles, etc was the final release by this incarnation of the band, though a re-jigged, Orange Juice-powered Moodists did return to release a string of horn laden 12"s (including one for Creation Records, bizarrely enough) in the mid-to-late 80s. They recorded a fantastic, final Peel session around this time too - once I can find the link again I'll post it here. Splitting before the decade's end, Graney & Moore have since gone onto forge a long & by all accounts rather successful successful career as The Coral Snakes, The David Graney Show & (currently) Lurid Yellow Mist. Graney has also managed to sneak in a couple of appearances on Neighbours, though I've somehow managed to miss those...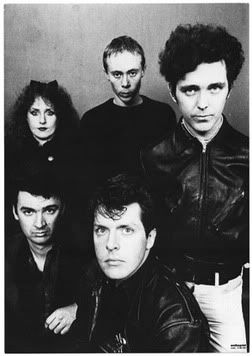 *This just in.
N.B. Apologies, etc: That Striped Sunlight Sound.