Some thoughtful oik sent me an MP3 of Beck's Record Store Day 7" this week & it ain't 'alf bad - a disconsolate, forbidding acoustic retelling of "Green Light", one of my favourite Sonic Youth songs (unfortunately
their
version of Beck's "Pay No Mind" on the flip is fucking horrific). Typically, this once again set me off on a 'net-based fact-finding sweep for some of those little missing pieces (
& there are many
) of the Beck jigsaw puzzle that remain remote & uncharted: the MTV Makes Me Want To Smoke Crack 7" for example (if anybody knows where I can find that can you p-l-e-a-s-e let me know?). Sadly, this ain't that. Instead, it's a spiffin' 19-song demo tape from 1992 - the same period documented on Stereopathetic Soulmanure, not long prior to the pre-eminence of "Loser" & the sudden, dramatic hike in his profile that (briefly) made him the posterboy of grunge-weary stoners everywhere.
Don't Get Bent Out Of Shape
has much in common with the One Foot In The Grave LP - released on K in the immediate aftermath of Mellow Gold in 1994 & still many folks' favourite Beck record. Intended to be a low-key side project, it's since gone on to sell around 170,000 copies in the States alone & recently received the "deluxe" reissue treatment c/o Beck's own Iliad label with an entire additional disc of outtakes 'n' chattels. Though not without it's fair share of messing about (as have
all
of his early releases), Don't Get Bent... is the best set of indie-Beck that I've heard to date & listening to it now it's hard to comprehend that a couple of years later the gent responsible for these apocalyptic dustbowl elegies ("When Will The Water Take Back The Land", et al) would be trading funk samples with The Dust Brothers on Odelay. If you don't like him already it's doubtful that this demo'll initiate any kind of epiphany but, archivally at least, it's indispensable for any convert. There's a
ton
of Dylan apparent herein which, conveniently, brings me full circle to this daft cover of
"Leopard Skin Pillbox Hat"
Beck donated to War Child's Heroes compilation earlier this year...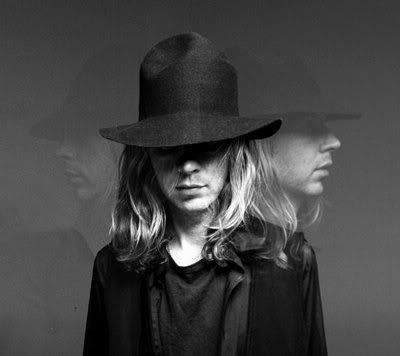 Compliments to the chef:
Brunnski Beats
.
www.beck.com