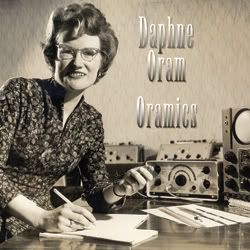 Like many folk of my age, the eerie sound of the BBC Radiophonic Workshop permeated my childhood via their haunting theme & incidentals for Dr.Who & (sporadically) The Tomorrow People, plus numerous television & radio documentaries & jingles. Though Delia Derbyshire, Brian Hodgson & John Baker have all psothumously received generous good press, it seems like Daphne Oram - who actually
co-founded
the Workshop with Desmond Briscoe in 1958 - has been relegated to the sidelines somewhat. I have to admit that
I
only first heard about her a couple of years ago c/o a brief article in The Wire magazine related to the release of Paradigm Record's stunning Oramics anthology. Both her commercial utilisation of
make-do
electronica & musique concrete theory, & the compositional system of Oramics itself that she spent her lifetime developing, verge on outright genius. I'd make an idiot of myself if I tried to explain the above in my own, over-enthusiastic babble, so do yourself a favour & check out
daphneoram.org
& her
Wikiedpia entry
for a more balanced explanation - they're both essential reading.
Tragically, the exemplary Oramics CD is already OOP. Mute's recent,
long
anticipated reissue programme of the Workshop's back catalogue, though to be applauded, only fleetingly touches on Daphne's outstanding & progressive experiments in electronic sound, so I'm linking to this great post
Bruitage Et Mon Cri Dans L'Escalier
blog & hoping that they won't mind
too much
. You lot, meanwhile, should prepare to be amazed...
Disc 1
/
Disc 2
So, did she accidently invent techno? I'm not sure about that, but she
did
apparently help devise early on-board music software for the personal computer & her influence on pioneers such as Eno & Kraftwerk is undeniable.