A couple of flat out stormers from the
Punk Not Profit
blog, a new 'un to me though I have an inkling that they've been up & running for some time. Definitely make time to root through their archives when you get chance 'cos they're stuffed to burst with choice posts:
So then, I was under the impression that there were only three songs on the original, pre-Virgin,
Magazine demo
but, nope, there are actually
twice
that. One of 'em, the fantastically titled "Suddenly We Are Eating Sandwiches", turns out to be a
very
embryonic thrash through "My Mind Ain't So Open" with totally different lyrics & a winebar sax solo. Though the rest of the songs here don't differ too much from their "official" counterparts, it's surprising to hear how wiry & tentative they are - particularly "The Light Pours Out Of Me" which is way more reticent & melancholy than the later, commanding Real Life take. The whole thing's so good that it
almost
makes up for the semi-awful night I had back in February when I travelled up to Manchester to see the reformed Magazine play their first hometown show in 25+ years - a great performance on the whole (not
nearly
enough Secondhand Daylight though) but soured somewhat by an audience of 75% agressive, domineering meatheads determined to relive their badass pogo heyday en masse at the expense of anybody who happened to get in their way (guess who?). Barry Adamson had a nice hat on though.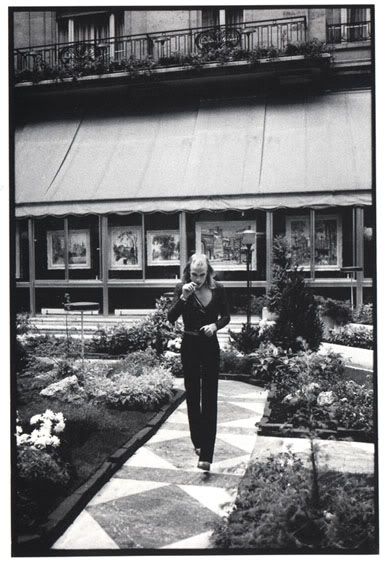 Even more exciting a discovery -
from where I'm sitting anyway
- is
Eno's solitary John Peel session
, recorded at the height of his post-Roxy glam phase circa Taking Tiger Mountain By Strategy, & employing proto-pub rockers The Winkies as his backing band. The BBC's Keeping It Peel reckons it was recorded on 26th February 1974 by Tony Wilson ("
another one
", Peel'd often append) & I'm pleased to report that it's an absolute stormer. Though less sonically adventurous than his records, these versions are way more agigtated, amped-up & r.o.c.k.-friendly than the ones you're (probably) familiar with. The Winkie-fied Eno rips through "Baby's On Fire" & "The Paw Paw Negro Blowtorch", slams the notch violently to the right on "Totalled" (actually an electrfied "I'll Come Running" it transpires) & departs with a
slightly
ill-advised swagger through "Fever" (yeah,
that
one) - marvellous stuff & camp as fuck! Eno only toured this line-up the once as far as I'm aware, a shame as this session is
so
outstanding, but a year later he'd already packed the feather boa off to Oxfam & gotten himself a serious haircut in preparation for Another Green World. No more "
idiot energy
", as he was wont to refer to it...
P.S. Many thanks again to Punk Not Profit.