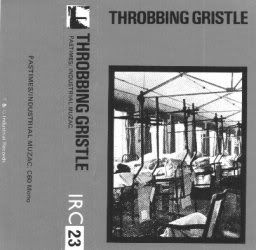 I'm sure, like myself, you frequently awaken to find yourself in that peculiar frame of mind that finds nothing out-of-the-ordinary in shattering the idle tranquility of one's breakfast time with howling cassette-borne gales of ferocious condenser-mic tumult (strictly '70s vintage obvs.) whilst poring over that morning's copy of The Independent & stuffing hot buttery crumpets into one's gob? This morning is, indeed, one such occasion. And amen to that.
Throbbing Gristle's Pastimes / Industrial Musac cassette (IRC 23) was originally released by
Industrial Records
in 1979, though it's been frequently bootlegged since. Neither titled nor dated, the
formative - formless - frenzied - fearsome
racket herein sounds like nothing if not a grief-stricken, Ketamine-soaked Tangerine Dream -
Zeit
on a Happy Shopper budget. Crucially, none of Pasttimes' contents has ever been officially re-released, as none of Industrial's studio tapes were included in Mute's
TG24
or
TG+
box-sets.
Essential listening, but don't blame me if it gives you glue-ear.
●
See Sixty