I dragged my Black Flag vinyl out of the archive at the weekend & have spent the last few days listening to little else. To say that I'm "
positively energised
" is putting it mildly - listening to that stuff again after several years' abstainence is like chugging half a dozen big mugs of black coffee (I
imagine
- I'm more of a tea afficianado myself tbh). Their pre-Rollins recordings are still my favourites - hyped-up, uber-snotty hardcore punk rock with intelligent, often hilarious lyrics & (N.B. this is probably the important bit)
great
tunes. After Rollins signed up things got a lot heavier (musically
&
lyrically) very quickly. Though their debut LP Damaged is
the
definitive American punk rock masterpiece & arguably one of the best LPs of the '80s full stop, I've always prefered the earlier versions of those songs, eventually anthologised on the sanction-busting Everything Went Black album. Everything Went Black, as you probably already know, slipped out while the band was embroiled in a protracted legal dispute with MCA Records over Damaged's release. Temporarily unable to release anything under the Black Flag monicker, E.W.B. was initially issued with just the band members' name listed alphabetically on the sleeve, though Greg Ginn & Chuck Dukowski apparently ended up spending several days in jail as a direct result of releasing it anyway! During this enforced layoff, the band continued to habitually document their songs regardess, & when MCA's injunction was finally lifted they immediately exploded back into action & spewed out four new LPs in 1984 alone (all via Ginn's own SST label). The best of these, the
harder core than thou
My War, alienated the more conservative factions of their following by ditching the h/c riffage for semi-metallic free-gtr dischord &, on side 2, dropping the tempo to an agonising (creepy) crawl, it's trio of
l-o-n-g
songs sounding like Black Sabbath on smack whilst lyrically pre-empting the emotionally confrontational self-loathing of Swans. The sonic equivalent of a slug crawling along a razor blade basically.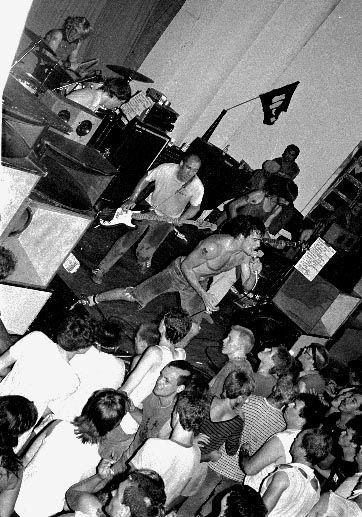 Many of the songs that made up that slew of 1984 LPs turn up in raw, visceral form on The Complete 1982 Demos along with a couple of titles that never made it onto vinyl. I'm not suggesting these versions are superior to the official ones, just that they provide some blistering, rivetting alternatives. Some fans'll tell you that this is the band's finest line-up, with pre-Rollins vocalist Dez Cadena retained on second guitar & Chuck Biscuits (ex-DOA) behind the drums. Tracks 1-10 are the original '82 demos (though allegedly
not
all of them), recorded when the band were still short of a bassist, with Greg Ginn doubling up under his Dale Nixon pseudonym. The other final songs were recorded at L.A.'s Radio Tokyo studio just after Kira Roesseler (longtime wife of ex-Minutemen bassist Mike Watt) had joined the band & are, frankly,
hot shit
. Typical illustrative gallows humour from Raymond Pattibone too. N.B. PLAY
VERY
LOUD.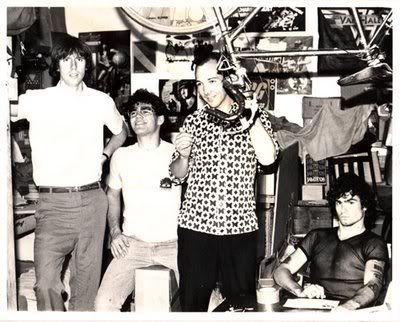 Beat your head against the wall