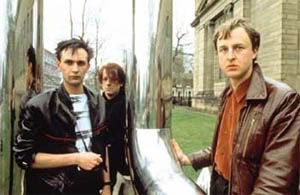 Of all the original industrial outfits, it's Cabaret Voltaire that I've continued to return to. I first encountered them while still at school in the 1980s (when you were just as likely to hear "Nag Nag Nag" down the school disco as Numan's "Cars"), at which point they seemed impossibly opaque & exotic. Little did I realise they'd been quietly gestating just up the road in glamourous Sheffield.
Their
influences (Burroughs, Velvets, The Radiophonic Workshop) were inevitably passed down to me & continue to intrigue me to this day, a quarter of a century on. Personally, I don't feel they ever quite recovered from the loss of Chris Watson in 1981, at which point their progressive experimentalism & devout amateurism seemed to give way to an less engaging interest in new technologies & creeping commercialism (or
realism
, perhaps?). Ironically, it's their later, post-Watson, recordings that have dated the most. Their earlier recordings as a trio
still
sound extraordinary & otherwordly & I still find myself listening to them on a regular basis. Live tapes from this period don't appear online very often, so I suggest you snap this one up pronto - many thanks to
Proskynesis
for posting the original link, it's an absolutely
stunning
artefact...
Expect Nothing