Like most English music fans of a certain age & persuasion, my most potent memory of Die Todliche Doris (my keyboard's an umlaut-free zone, sorry) is briefly seeing them on The Tube during Muriel Grey's ace Berlin special. Recorded a few years before the wall came down, it was an inspiring, slightly chaotic travelogue in the (early) style of The Face magazine, wherein Factory Records' rep
Mark Reeder
dragged Grey's game-for-anything camera crew through the labyrinth of secret bars, scary nightclubs & anarchic squats that made up West Berlin's underground scene at that point (1983
specifically
). Along the way, she pinned down a brace of pivotal Berlin-based musicians for a chinwag - Malaria!, Einsturzende Neubauten, Die Toten Hosen (
meh!
) & our darling Deadly Doris being the most prominent. It was recorded around the same time that Doris released their Chore & Soli set, a music-related artefact that was promoted as a record but was actually something
far
more innovative (as per most of their back catalogue, you can read about it & download it for
free
c/o their
website
). Ohne Titel: 7 Todliche Unfalle in Haushalt (aka
Without Title: 7 Deadly Accidents In The Home
) was Doris's debut vinyl release - following a series of
very
lo-fi cassettes - & is still one of their most popular (i.e. it's
relatively
easy on the ear). Listening back to it now, it totally reflects the era & environment that spawned it, vividly encapsulating
Berlin:1981
. It was released c/o the mighty
ZickZack
label, of course - purveyors of fine 80s NDW & the Berlin sound generally (though ironically they operated out of Hamburg).
Coincidently, whilst clearing out some ancient VHS tapes recently I discovered the majority of that selfsame Berlin documentary on the end of an old
Videodrome
I'd recorded & ended up sitting down watching it again - great stuff (funnily enough, I'm reading Alex Cox's X Films tome at the mo' & that's really good too).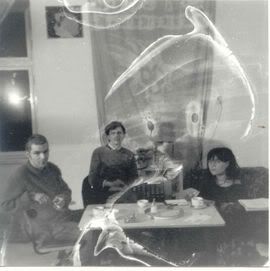 Dotty