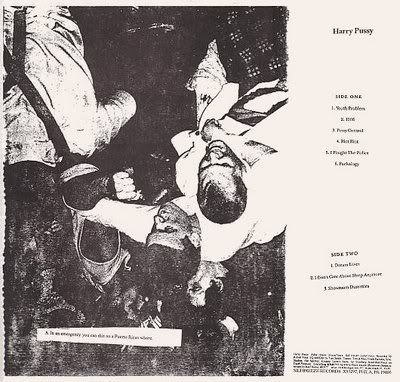 Harry Pussy exploded out of Miami at the arse-end of that whole, confusing cassette underground brouhaha sometime circa 1992 & were the spearhead of
Siltbreeze
's first wave of mentalist bands. From where I'm sitting, the current roster of Times New Viking, Eat Skull, Psychedelic Horseshit & the like sounds seriously anaemic in comparison to that earlier vanguard of The Dead C, Strapping Fieldhands, Sandoz Lab Technicians, the Jim Shepard army, Mike Rep & The Quotas, Thomas Jefferson Slave Apts & das Pussy - what do
you
think? I've still never quite worked out whether Harry Pussy
were
actually attempting to out-extreme every other mover & shaker of that particular scene (thereby providing it's deservedly undignified denouement, a little bit like The Sex Pistols in relation to Rock & Roll) or if they just made their music as intensely annoying an endurance test as possible to see how many jaded hipsters (i.e.
moi
) would buy it & dutifully listen to it in it's entirety. A little bit of both maybe? Either way, their records (& there were rather a lot of them) tended to sound like complete shit (in a
good
way) & come packaged in badly photocopied, hamfisted collages or, in at least one instance, a sleeve fashioned from an old curtain (spraypainted for maximum effect). Essentially a duo, Bill Orcutt (guitar & vocals) & Adris Hoyos (drums, vocals & now happily married to The Shadow Ring's Graham Lambkin!), the ear-blistering racket they managed to rustle up between 'em remains eyewateringly over-the-top, & never more so than on this charmingly titled 1993 debut LP. Lightning Bolt? PAH!! If you can hang onto your rattling dentures long enough you'll make it as far as their
fanfuckingtastic
cover of Kraftwerk's "Showroom Dummies", which is about as close as they got a "pop" song. Or, indeed, a "song". Ever.
Fuckology
Of course, if they reformed now there'd be slavering journalistic re-evaluation aplenty, a 10-disc boxset to digitally document their every last fart & the inevitable run of lacklustre liveshows at the ICA. Remember 'em this way.