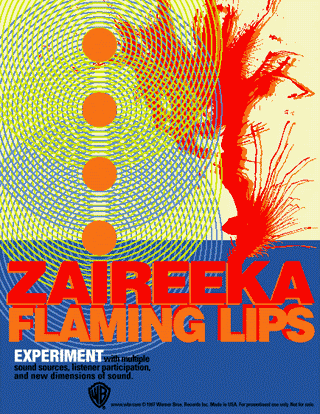 I'm fundamentally defeating the object here I suppose but, admit it, that original 4 disc version of The Flaming Lips' quadrophrenic Zaireeka is surely one of the most frustrating albums ever? It's also probably one of the most unplayed. Being a massive Lips fan at the time (c.1997), I optimistically splurged £25 on it, toyed around unsuccessfully with various combinations of ill-suited domestic hi-fi, then reluctantly put it to one side & forgot about it. A shame really as the sections I managed to piece together to sounded tantilisingly grand. Mixes of all 4 discs have been floating around on Soulseek & the like for ages but, as I stopped obsessing over the Lips several years ago it hadn't crossed my mind to look for one 'til relatively recently. As suspected, it's a compelling set of fantastical, thought provoking songs & the first LP of their "second phase" - post-Ronald Jones & sounding very much like a dry run for it's successor, the triumphant The Soft Bulletin. The goons at Mojo still hadn't got their sweaty hands on 'em at this point though,& it'd be a while before Wayne started
orbing
above thrill-seeking festival crowds like a giant, attention-deficient hamster. Ugh.
On the 10th anniversary of Zarieeka's release, the band made and distributed an additional fifth disc to go along with the original set, handing a limited amount of copies out at the 10th anniversary listening party for the album. Remarkably, it contains what was originally intended to be discs 5-10! Full marks to them for remaining true to the original concept &
still
refusing, a decade on, to relent & make the mixed version available commercially though...
Zaireeka
N.B. If you're unfamiliar with the Zaireeka "concept" then have a peek at
this
...