I first heard Guided By Voices way back in 1993, purchasing copies of Scat's original Vampire On Titus/Propeller 2-fer & The Grand Hour EP via the legendary Rustic Rod (does anybody have a clue what happened to him - let me know?) &, though the romance has certainly had a few protracted ups & downs, I still love 'em to bits. Their back catalogue is so mindbogglingly vast that it's still possible to ping-pong back & forth from one distant vinyl outpost to another, changing one's favourite GBV release virtually on a weekly basis (for the record, I'm currently revisiting their 1986 debut, Forever Since Breakfast - my copy's an I Wanna original &, coincidently, another Rustic Rod purchase).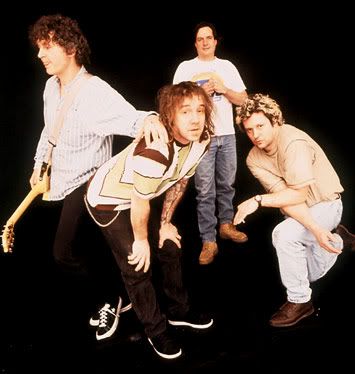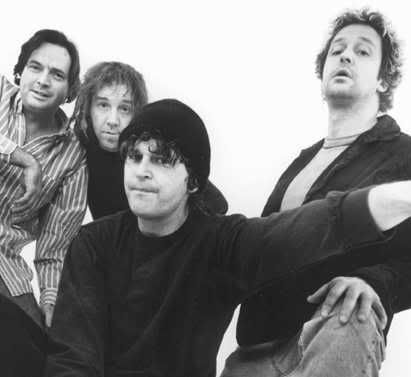 Most savvy GBV pundits agree that they hit their creative zenith sometime around 1996's Under The Bushes, Under The Stars LP. The genesis for that benchmark album can be found in the unreleased The Power Of Suck, whose extensive Kim Deal/Steve Albini-directed sessions eventually produced enough material not only for the Under The Bushes double, but for the subsequent Sunfish Holy Breakfast & Plantations Of The Pale Pink EPs, numerous singles & compilation tracks & various GBV-related solo shots (Not In My Airforce & Carnival Boy for instance).
Robert Pollard: "
The album was going to be a concept album. It was going to be called The Power of Suck. An autobiographical concept record about how Guided by Voices had started from nowhere & all of a sudden we were thrust into the limelight. The story was like, Are they going to sell out of not? What's going to happen at the end? And Don't Stop Now was supposed to be the big finale. So originally it was a concept album and I was writing all these songs geared toward this concept record, & it was getting really difficult. Jim Greer had already written the story for it, & it was really hard to try to write songs for the record. All the songs that we were doing with Kim Deal & Steve Albini were for the concept album. We went to Europe & did our tour and when we came back, I had decided to shitcan the concept album, & I wrote a bunch of new songs, like 18 or 20 songs, & I thought they were better. They were more spontaneous and more free, they weren't geared toward a concept of anything, so we decided to record them in Dayton. I just decided to get rid of all this stuff from the concept record. Plus (for the concept record songs) we rehearsed for maybe a month in the basement, & took maybe two more weeks to record it-the whole process took two months to rehearse and record, & I don't like to work that way. I like to record as we rehearse. The stuff we did with Kim and Steve is painful for me to listen to. Not all of it, some of it turned out really good, but a lot of it is painful for me to listen to because it took so long and it was so laboured
." Between the nixing of initial concept & it's eventual completion as UTB, Suck was fleetingly retitled both The Flying Party Is Here & Mustard Man & Mother Monkey, details of which you can pore over at the thoroughly essential
Guided By Voices database
if all this teeming minutiae hasn't
already
driven you half barmy. I was fortunate enough to see them on the European tour Pollard mentions & can honestly say it was one of the best "rock" gigs I've ever been to -Tobin Sprout & Mitch Mitchell were both still onboard, incredible songs old 'n' new were spilling out of 'em nonstop & the crowd absolutely worshipped 'em. The support slot from Kim Deal's shortlived Amps was a real eyeopener too - she's the only indie vocalist I've ever seen who had a designated cigarette roadie (funnier than it sounds!). The Amps had already recorded the "official" version of "I Am Decided" on their Pacer LP by this point, of course. Reluctant as I am to say it, I
do
feel that sudden blanket recognition marred GBV somewhat. Dragging them out of the subterrestrial Dayton, OH bar/garage scene & applying the predictable record company pressures of the yearly album/tour/album grind threatened to turn them into
"just another indie rock band
" for a while but, though Pollard's prolificy & quality control understandably fluctuated for a while, he appears to back on form again nowadays (everything his current Brown Submarine porject have released so far has been ace).
I found this set over at
Back To Basics
, though I've no idea who assembled it originally or if it's this specific sequence that was intended for release. I've
everososlightly
broken I Love Total Destruction's rule of not posting material that's currently still in print: you can find several of these songs scattered throughout GBV's UTB-era catalogue & on the band's two quadruple disc Suitcase collections of otherwise unavailable curiosities (N.B. vol. 3 is apparently imminent!). One minor gripe: I'd have much prefered to see the inclusion of that ancient, dog-eared "Don't Look Now" demo (as heard on King Shit & The Golden Boys) over the beefed-up UTB version - the latter sacrifices much of the original's threadbare melancholy for overwrought pro-studio bombast unfortunately. In tandem with another fascinating online bootleg, The Carefree Kitchens Are A Blast (link below), this is pretty much all the GBV I've been doting on of late (though Forever Since Breakfast's "She Wants To Know" has been stuck on repeat also). If you're in the unlikely position of never having heard any GBV before then, er,
good luck
& dig in - despite the absence of so many classic Under The Bushes songs (no "Cut Out Witch", "To Remake The Young Flyer"
or
"Man Called Aerodynamics"), this remains an ideal starting point for your induction into the GBV vortex...
Suck
/
Kitchens
Robert Pollard:
www.robertpollard.net /www.thefactoryofrawessentials.com
Guided By Voices:
www.gbv.com / www.gbvdb.com
NEWFLASH!
This just in:
Rustic Rod
Goodway returns!