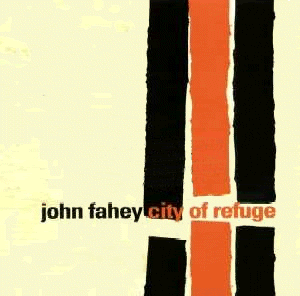 A deft fingerpicking guitarist fusing classical, abstract & esoteric elements with the usual folk & blues influences, John Fahey was often labeled an American Primitive due to the self-taught nature of his "art", though his playing doesn't sound anything
like
"primitive" to a concerted novice like myself. Despite wrestling with a guitar in several bands over the years (
though certainly not any that you've heard of
) I'm definitely still not a "
guitar player
" as such. Consequently much of John Fahey's earlier, classic recordings sail, majestic & aloof, over my uncomprehending head. As much as I enjoy listening to, for instance, The Transfiguration Of Blind Joe Death, it's fair to say that I don't really
get it
.
The terminal phase of his career presents no such difficulties for me however. Denouncing the dazzling technique of his classic, medititive period as "cosmic sentimentalism", he chose to pursue a noticably harsher & explorative course throughout the 90s, much to the confusion & derision of his old time fans ("Being worshipped is a horrible experience", Fahey has claimed). Though recovering from the effects of longterm aloholism, diabetes & chronic fatigue syndrome, Fahey (who'd virtually stopped recording in the 80s) embarked on a prolific, often wayward, campaign of recording & live performance that would only be curtailed by his death, aged 62, in 2000. City Of Refuge is the first of the later Fahey albums I heard & I still give it a listen fairly regularly (rather randomly, it contains a couple of collaged Stereolab samples!). The Tim/Kerr label put it out in 1997 though it's currently OOP (the label tanked a couple of years later I believe). That same year's Womblife CD, on Table Of The Elements & produced by Jim O'Rourke, is probably my favourite though. During his stint in Gastr Del Sol, O'Rourke ceaselessly championed Fahey's work &, arguably, is largely responsible for his long-deserved critical re-evaluation.
This link c/o
Annaherugen
btw, a new (to me) blog chocful of intriguing-looking music I've never heard of. Tap into the official Fahey
site
for further enlightenment.
Refuge