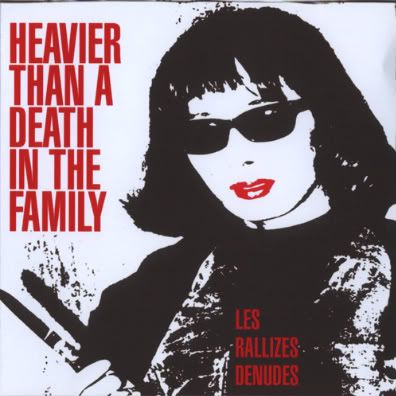 Attention: This is fucking incredible!
Like virtually
everybody
else, Les Rallizes Denudes were brought to my attention by Julian Cope & his mammoth Japrocksampler tome. Though the serpentine family tree of progressive Oriental psychedelic rock is much more difficult to navigate than the music touched on in his previous, landmark Krautrocksampler guide it's potentially just as mind frazzling (perhaps
moreso
). I've only made limited in-roads into the genre so far but my mind is already well on it's way to being totally b.l.o.w.n. (
ahem!
) by this stuff & while Flower Travellin Band are possibly it's finest exponents, the mysterious Les Raillizes Denudes are probably my favourites, undoubtedly because they're so
supremely
fucked up.
Formed in 1967, the ultra-reclusive Les Rallizes Denudes operated under a cloak of consummate secrecy, swiftly attaining mythical status. They released virtually no official records of their own, operated exclusively as a live act after 1973 & only split as recently as 1996. Principally, they've been documented by a series of sumptious multi-disc, feedback-soaked live bootlegs, of which 2002's Heavier Than A Death In The Family is only one of
many
(disappointingly I don't have a clue where or when it was recorded, though there's some crossover with the oft-mentioned '77 Live boot). Imagine a militant left wing, opiate-steeped, basement dwelling Japanese commune struggling to approximate the first Velvet Underground album in the style of Hawkwind & then introduce a little wanton terrorism for a good measure (their original bass player was an active member of a
Japanese Red Army
cell & sucessfully hijacked an airliner in 1970!). Bascially they make Acid Mothers Temple look like a bunch of...
hippies
. Awesome! If you like this & want to hear more, track down the Blind Baby Has It's Mother's Eyes LP, it's another stunner...
N.B. There's an excellent online article about Les Razilles Denudes
here
. And if you fancy tracking down the other 49 entries in Cope's Japrock Top 50 you'll find most of them at
In The Pines
, though I've no idea how many of the links are still active.
Heavy