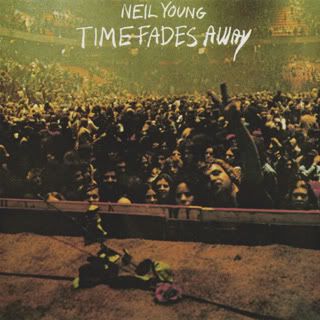 Time Fades Away is the kind of record that
proper
writers have already started basing entire books around, but I expect you know that already?
Alongside Tonight's The Night & On The Beach, it's one third of Neil Young's celebrated "ditch" trilogy: the handful of pessimistic LPs he recorded immediately after Harvest (& radio favourite "Heart Of Gold") catapulted him reluctantly into bona fide rock stardom. As with many of his albums of the 1970s, it's actually a hotchpotch of compositions from different periods of his early career although, unlike most, the majority of the songs were
recorded
within a relatively close timeframe, on tour in America in February-April 1973 with Harvest backing band The Stray Gators in this instance. Though taped in the immediate aftermath of guitarist Danny Whitten's untimely heroin-related death the previous November, Time Fades Away isn't as
obviously
distraught & depressive as the harrowing Tonight's The Night (recorded before the end of the year but not released until 1975 at Reprise's insistance). Young's grief is perhaps evident in his bloodyminded insistence at airing brand new & unfamiliar material in rawer Crazy Horse mode rather than the slicker, FM-tested nouveau country & western his audiences were expecting. Young's mental health reportedly deteriorated as the tour progressed - both he, his band & the tour itself eventually collapsing into alcohol-sodden confusion & despair. Woop!
Despite this, Time Fades Away is a stunning collection of performances though, absurdly, it has yet to see any kind of sanctioned CD release (technology issues apparently, though it's always sounded fine to
me
) & Young has reputedly expressed no particular interest in rectifying the situation anytime soon. Only one song, "Journey From The Past", has been released anywhere else (on the soundtrack to Young's film of the same title, itself still currently out of print, & on the more recent Live At Massey Hall set), but typically there isn't a bad song on it. Alternating between lilting piano ballads ("The Bridge", "Love In Mind") & lumbering proto-grunge ("Yonder Stands The Sinner" & the towering "Last Dance"), & with only the touchingly autobiographical "Don't Be Denied" being anywhere
near
radio-friendly, it's quite possibly my favourite of all of his albums. Is it too much too hope that somewhere, amidst all the quality detritus Young has been excavating for his dauntingly exhaustive Archives project, even better
studio
versions of these amazing songs might exist?
Don't Be Denied