I fucking
love
Chrome. I
still
consider them one of the greatest bands from the post-punk era despite the fact that, like Devo & Pere Ubu, they actually formed sometime earlier (1975 in Chrome's case) & thereby pre-date many of that genre's major players. Their 1976 debut, the l-o-n-g deleted The Visitation, is a bizarrely brilliant hybrid of electroshock glamrock & proto-industrial punk that sounds a little bit like Santana & New York Dolls jamming at a seedy titty bar with The Residents on the mic. Virgin Records initially imported it into Europe in generous quantities to a perplexed, but cautiously positive critical response & I'm guessing they shifted more copies here at home. To suggest that The Visitation polarises opinion is putting it v.mildly - most Chrome-aquainted folk I know either slate it outright or dismiss it as half-cocked juvenilia - but despite it sounding like little else in their vast back catalogue I've grown to really like it, possibly because it's so fantastically
wrong
(not unlike that grainy footage you might've seen of Sex Pistols touring the USA & playing to audiences full of bearded, facepainted business studies students with safety pins through their cheeks & bleached afros,
very
Rocky Horror). It's easy enough to find The Visitation online if you've not heard it yet, so I won't bother posting it here.
Helios Creed didn't actually hook up with founder members Damon Edge & Gary Spain until Chrome's second LP, the pace-setting Alien Soundtracks. I'll spare you the dribbling hyperbole, 'cept to say that I've been listening to it (& it's superior sibling Half Machine Lip Moves) regularly for the last 20+ years & still find them both
utterly
mesmerising. In today's mediocre Cowell-dictated musical climate, it's difficult to grasp that a band as overtly unconventional as Chrome could've been picked up (in the UK at least) by no less a label than Beggars Banquet & seriously touted as The Next Big Thing but it really
did
happen (as press cuttings from the period will confirm). Gary Numan beat 'em to it unfortunately - it's amazing how far you can get with a couple of Ballard paperbacks & a copy of Diamond Dogs! Imagine what the 80s
could
've been like though, eh?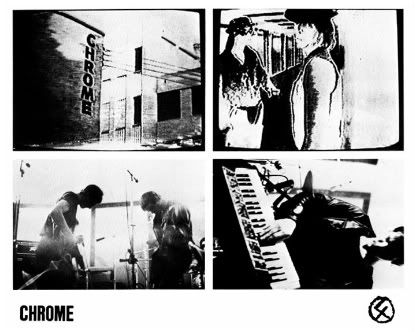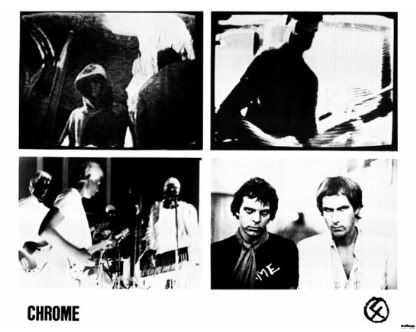 Edge & Creed eventually parted company in 1982 over ongoing touring issues. Essentially, Creed wanted to perform live more frequently in the wake of a couple of rapturously received fan-sponsered European dates, whilst Edge protested crippling agoraphobia. Shortly thereafter, Edge relocated from San Francisco to Berlin with his then-partner Fabienne Shine, further widening their rift. It's probably fair to suggest that Edge's interest in guitar-centric rock was dwindling by this point & that the new Creed-less line-up of Chrome he put together while in Berlin reflected his developing interest in synthetic sounds & (primitive) sampling technology. Chronicles I & II, the Edge/Creed line-up's final recordings, were originally issued as part of Subterranean's 6xLP Chrome Box (also including the essential No Humans Allowed collection) sometime in 1983 & to some extent reflect the duo's encroaching sonic incongruity. Though re-released in dubious circumstances (by the notoriously slipshod Dossier label) as a complimentary twinset of vinyl LPs shortly therafter, these terminal Chrome works have latterly only been available in savagely truncated form (with modified titles, etc) on the obscure Raining Milk comp or as part of the regrettably abridged CD version of Chrome Box. Those original, unexpurgated versions have been out of circulation for an aeon & a half, hence their appearance here...
Chronicles
P.S. You definitely need to spend some time over at
Static White Sound
if you haven't already done so, it's the finest Chrome rescource this side of Rigil Kentaurus (thanks/apologies to them for nabbing their Chromotional pics, etc).