The very promising
Cliff Richard's Neck
blog appears to have prematurely shut up shop, a real shame as whoever was behind it had been posting some terrific mid-80s Peel sessions, the sort of stuff I used to listen to religiously at the time...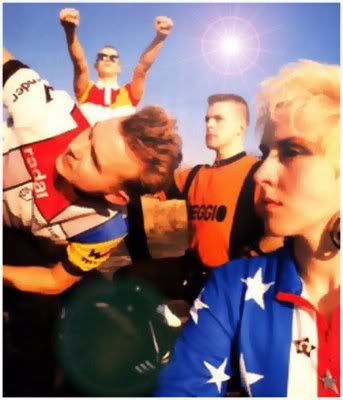 The Age Of Chance's debut session is an absolute stormer. Pre-dating their Tour De France-style lycra look (see pic) & the
almostamassivehitbutnotquite
"Kiss" 45, they were still sporting snazzy vintage suits beneath the sarky sneers at this point (
much
cooler frankly) & were far more aggressive & exciting musically. Based around mob-orater Stephen-E's hectoring vocals, Jan P's Ritalin-fuelled Mo Tucker drum set-up & Neil-H's massive wall of sub-Branca guitar aggro, their "sonic war sculptures" are a little bit like Motown pop-power after a ruthless reimagining by Ron Jonhson's Big Flame. Exhilerating stuff, especially their "Bible Of The Beats" 7" which I seriously suggest you check out
here
if you've not heard it before. Elsewhere, their "From Now On This Will Be Your God" is arguably the standout track on NME's scene-defining C86 cassette, despite the revisionist twee-apologism of Bob Stanley & the like. Virtually all of these great early songs were abruptly ditched after the band signed to Sheffield's FON label in 1986. A tasty Virgin contract, the (still) ace "Who's Afraid Of The Big Bad Noise?" single & one
adequate
debut LP later, Stephen-E had split & the band had chosen to pursue a more commercial, dance-oriented direction, drafting in a "proper" vocalist & hitching a lift on the then-flourishing house music bandwagon.
Meh
. This October 1985 session is still shit hot stuff though - remember 'em
this
way...
Peel#1 / Info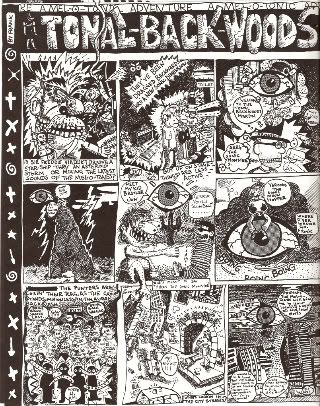 Another longtime Peel fav of mine is The Mel-O-Tones' only session from August 1985. They'd already recorded a couple of Beefheart-inspired EPs of speedy, phlegm-encrusted bedsit psychedelia for Liverpool's reknowned Probe Plus by this point (
here
), but this BBC session remains their greatest recorded affidavit I think (though "I Walked With A Bugs Bunny Bendy Toy" takes some beating). Shortly afterwards, minus founder member Martin Dempsey (ex-Yachts & Pink Military), they transformed themselves into awesome acid grungers Walking Seeds & recorded umpteen terrific EPs, albums (often with Shimmy Disc's Kramer at the controls) & Peel sessions, scant few of which appear to be available on line. Their Bevis Frond-produced Sensory Deprivation Chamber Quarter Dwarf-LP is a great place to start if you can find it. I was lucky enough to see them live a handful of times &,
cri-i-key
,
WHAT
a band!
Peel / Etc.
Other recommendations:
the second Fire Engines set (thoroughly excellent, though subsequently disowned by the band), A Witness's first two appearances, those later Marc Riley & The Creepers sessions, The Janitors, Folk Devils, The Pastels, The Three Johns, The Walking Seeds (& The Mel-O-Tones), Bogshed, Tools You Can Trust - I
could
go on but they've all been posted over at Cliff Richard's Neck so pay 'em a visit, eh...?