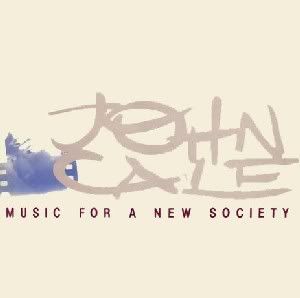 Released in 1982, Music For A New Society is one of Cale's bleakest & most challenging solo works (which is saying something!), & also one of his rarest (it's currently going for anything up to £180 on Amazon!). Musically it has much in common with his many collaborations with Nico, the songs chiefly employing a minimalist palate of understated piano & spacious electronics, though vocally it's much more fractured & distraught than anything Ms. Paffgen put her name to. Emotionally it's tempting to draw parallels with John Lennon's raw & purgative Plastic Ono Band LP - both represent the (solo) artist's creative zenith, while neither are easy listening by any stretch of the imagination. The powerful atmosphere Music For A New Society creates is at once beautiful & disturbing, & as it's very possibily Cale's last
truly
great album it's undoubtedly worth 40 minutes of your life. Remarkable stuff...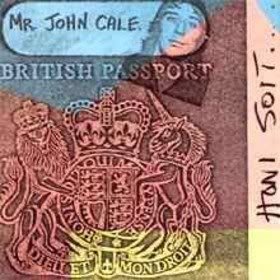 Also worthy of your attention is 1981's long forgotten (
why?
) Honi Soit. Lurking somewhere between Music For A New Society's tormented primal screaming & the skewering, antagonistic rock of his earlier solo records -
both sonically
&
chronologically
- it's unlike anything else in Cale's canon & captures him at his belligerent, chicken-slaughtering best.
Interesting Fact #1: it's produced by Mike Thorne who'd recently completed a run of landmark albums with Wire
&
Soft Cell's "Tainted Love", & Honi Soit displays noticeable nods in the direction of the then in-vogue post-punk sound, though it's worth pointing out that many of the post-punk bands were referencing Cale's early work to some extent anyway. Interesting Fact #2: backing vocals on "Fighter Pilot" are credited to The Bomberettes, actually The Mo-Dettes incognito. Though it's no magnum opus, the fraught (& virtually unrecognisable) version of "Streets Of Loredo" is a treat & the entire album's tendency towards peculiar instrumental juxtapositions, leering dissonance & lyrical brutality make Honi Soit unforgettable listening, if occasionally a little starved on obvious "melody". Amusingly, Cale was purportedly concerned that fans would think Thorne's rich production job was some indictation of his "selling out" - there's a great eassy (penned by Thorne himself) about the LP's gestation
here
. I really like it. Dunno why folk fall over 'emselves to praise Sabotage but continue to disregard Honi Soit,
but they do
. And,
yep
, it's already been out of print for several years, folks...