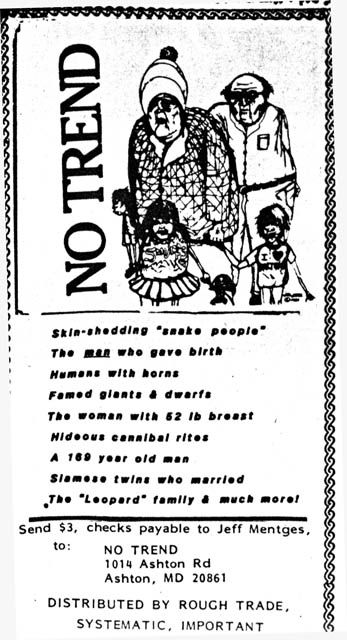 I heard this last week for the first time in a
long
while - & it still sounded absolutely amazing. Pissed off Washington psyche punk miscreants from the mid-80s, No Trend were often compared to San Francisco's Flipper &, while I can see the parallels, I think the only thing those 2 bands
genuinely
had in common was a rather evident shared love for Metal Box. Oh, & repetition - snarling, dirgelike
repetition
.
And
, erm, venomous, utterly disgusted cynicism (we musn't forget the cynicism!). However, whereas Flipper were
very
obviously in thrall to "classic"-era Public Image Limited, No Trend also sucked on the withered teat of austere Brit-gore anarchos Discharge & Flux Of Pink Indians at their most harrowing (i.e. the screeching cacophony of The Fucking Cunts Treat Us Like Pricks LP, etc).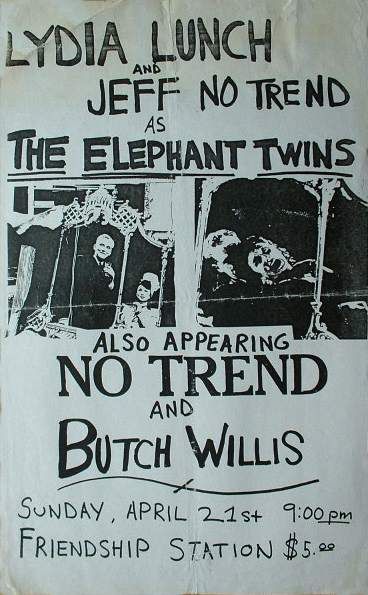 Teen Love was No Trend's debut 7", recorded at DC's Inner Ear (reknown as the Discord studio & then based in Don Zientara's basement, it's still in operation
today
) & released on their own eponymous label in 1983 (they re-released it a year later on 12", heavily remastered with a couple of extra tracks). The link I'm posting here represents that entire, initial Zientara-produced Inner Ear session & was fleetingly issued by Teenbeat in 1995 as part of their The Early Months retrospective (currently £75 on Amazon!). Most of their subsequent releases are online if you can be bothered to look: 1984's Too Many Humans is a must-hear - it's even more outraged & troublesome than their debut in places - while the following year's A Dozen Dead Roses explores as-then uncharted, caustic in-roads into a nascent, poisonous pseudo-goth sound (it includes
all
their Heart Of Darkness EP, recorded with & originally released by Lydia Lunch on her own Widowspeak outlet btw).
Inner Ear