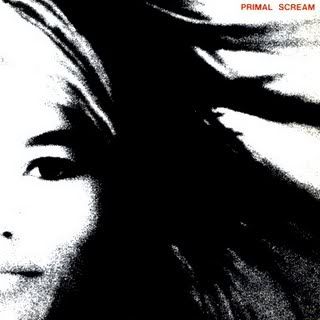 It took me some time to finally click with Primal Scream. I saw them live several times around the time of these inaugeral BBC recordings (supporting The Jesus & Mary Chain generally) but considered them too studiously fey & slavishly retro to be of any lasting importance. Like most folk, "Loaded" fleetingly turned my head in their direction a few years later, but it wasn't until 1997's opaque & enigmatic Vanishing Point LP that I really fell for 'em. They were an absolutely outstanding live proposition 'round that time - I caught them at Nottingham's Rock City & still consider it one of the finest gigs I've been too
ever
. No support act as such, just Andrew Weatherall hammering out dark-as-fuck techno dubs in a pitch black hall to a howling, loved-up 'n' boistrous mob. Then, fronted by a short haired Bobby (quite a surprise at that point!), P.S. growled at half-speed through all of their most paranoiac material, kicking off with a sullen "Out Of The Void" & rendering even the usually euphoric "Higher Than The Sun" as an unsettling bad trip mantra (& did I imagine The Third Bardot's "5 Years Ahead Of My Time" cruising by at one point?). A closing "Loaded / Movin' On Up" medley was the only obvious shaft of light & even
that
seemed seemed clouded with dust & narcotically unhinged. I'm sure that they performed their entire set in front of a 30 foot high screen showing a loop of divebombing Stukas but,
erm
, that could've been the drugs frankly (seriously, if anybody can confirm that I
did
actually see that please drop me a line to confirm!).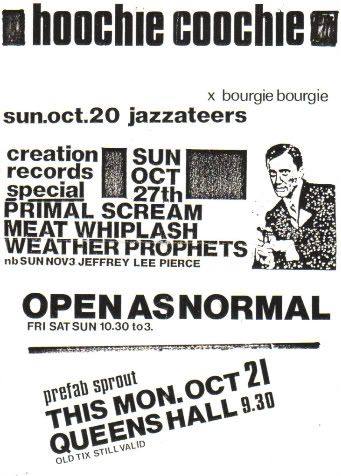 Though fully aware of P.S.'s earlier, leather kek-ed Creation/Elevation period, I was honestly never convinced that they were anything more than a McGuinn-besotted flash in the pan. On reflection, their
still
unissued "All Fall Down" debut wasn't a complete write-off afterall &, despite my reservations, I played their 2 Peel sessions to death at the time (I still have the cassette squirreled away somewhere). Immaculately coiffured & voluble conversationalists they might've been, but those early P.S. records consistently failed to inspire (botched production I guess, even Mayo Thompson couldn't get it right?) & by the time they'd
junk
ed Younger Than Yesterday for the first New York Dolls album, serious drugs & vulgar rock'n'roll raunch they seemed like nowt more than a clueless indie anachronism, aimlessly bumbling around from one stone dead genre to another with a perpetual "headcold". I was elsewhere listening to Sonic Youth & Big Black by that point & having the time of my life, frankly. P.S. really nailed it on these BBC-commissioned sessions though - the crystalline Maida Vale sound is gorgeous & P.S.'s performances are spot-on (compare the spirited Peel version of "Crystal Crescent" to it's lacklustre Creation counterpart for instance) . Maybe if they'd released these versions instead of the downcast Sonic Flower Groove they wouldn't have dejectedly shuffled off into that sub-Stones ditch & self-medicated themselves into virtual oblivion? But then they wouldn't have recorded Screamadelica, of course. Or, thereby, Vanishing Point.
The Lord giveth & The Lord taketh away
, etc...
Leaves