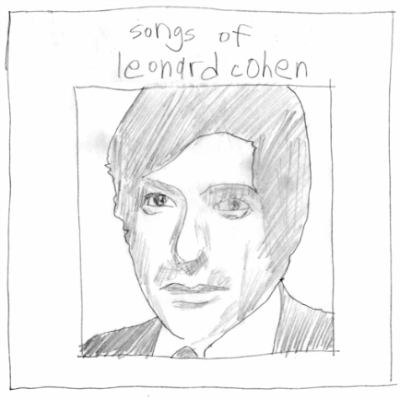 I only realised the other day that Beck has yet to release a greatest hits comp. - admirable restraint on his part considering the amount of bona fide "hits" he's actually scored (think about it) & the desperate straits the music business is in these days. He's got
hours
of other uncollated bits 'n' pieces floating about out there too - soundtrack contributions, tribute LPs, off-the-cuff cassette nonsense, etc - I feel a boxset comin' on! I'm rather impressed that he evidently doesn't deem such a predictably commercial measure necessary (so far anyway), though I'm sure Geffen/XL are gaggin' for one?
Moving on, here's the complete second volume of his ongoing, exemplary Record Club project - "
an informal meeting of various musicians to record an album in a day
" (i.e. they're winging it). This time 'round it's Leonard Cohen's 1967 debut, covered in it's entirety with help from Devendra Banhart, MGMT (!!), Wolfmother (!! x 1,000,000) & various other semi-vacant faux-entities I don't profess to have even a
fleeting
interest in. The music's good though. Most likely to upset the Cohen faithful are the eye-opening adaptions of "Master Song" (which might've crawled out of Midnight Vultures' neon rubble) & "Teachers" (sounding like it's being simultaneously hijacked by Wavves & Os Mutantes). "Stranger Song", possibily my personal Cohen fav, could be The Go!Team slowly spaghetti-ing backwards into a black hole (for better or worse). It's a faithful, often lovely, recitation of the album overall, though not quite as distinguished as the series' inaugeral entry - too many non-Beck vocals this time 'round & the "party" chit-chat occasionally rankles. As does the sound of Devenda Banhart picking weevils out of his lavish beard...
No sign of this, or the previous Velvet Underground installment, for sale online yet - for the time being at least it'd appear that he's doing this purely for the fun of it, obviously fully aware that the results will ultimately end up being railroaded by crummy blogs like this 'un. The
third installment
is already well underway & finds Hansen Esq. contemplating Skip Spence's Oar with Wilco (inc. Jeff Tweedy's son!), Jamie Liddell & Feist (amongst others) in tow - Beck previously ran through Spence's "Halo Of Gold" on the More Oar tribute LP a few years back of course (you can find it on the "Tropicalia" single too). Unlike the Banana & Cohen albums, Oar has never been a particular favourite of mine, I've always found it's unavoidably voyeuristic exploration/exploitation of Spence's mental issues a little too explicit tbh, so it'll be interesting to see if these covers revise my opinion at all.
Conceivably, Record Club #4
could
be Sonic Youth's E.V.O.L. (according to Rolling Stone anyway), & if his cover of "Green Light" for Record Store Day earlier this year is anything to go by it'll be way more than merely "okay"(
pay no mind
to Sonic Youth's contribution though, it's abysmal). While we're waiting for #4 (& the imminent Charlotte Gainsbourg LP that he's produced & co-written), you could do worse than cast a palsied eye over
this
spiffing Beck blog, the alternate (& superior) Modern Guilt sleeve designs are worth a few mins of
anybody
's time for starters...
LEN