John Cale's back catalogue has been particularly ill-served by his old record companies generally with only a couple of keynote LPs receiving the mandatory "expanded / remastered" treatment, but the protracted unavailability of terrific early 80s LPs like these two 1984 obscurities, in addition to Honi Soit or Music For A New Society (both of which I covered elsewhere), makes little sense to me. Critically derided at the time (& D.O.A. commercially), I'm gradually coming 'round to the idea that Cale's post-punk wilderness years actually might have produced some of his most interesting music - it's certainly some of his weirdest...
Caribbean Sunset's oddly benign cover portrait belies it's gleefully brutal contents. Both title & sleeve suggest this might be an inanely poppy, easy listening-type affair. Fortunately for us, it most certainly
is not
. Released, as per Music For A New Society, on New York's painfully hip Ze label, it was savaged critically & has regularly been written-off as Cale's worst LP ever since (by people who haven't actually heard it I imagine). Hindsight is, of course, a marvellous leveller. In 1984, it no doubt appeared that Cale was opportunistically jumping onto the "
punk
" bandwagon
way
too late to expect anything other than derision, but 25 years later the messy, off-the-cuff manner of recording (predominantly single takes - you can hear him shouting out incoming chord changes to the band on a couple of tracks!) & erratic rehearsal room sonics sound excitingly raw. The sessions' spontaneous nature might partially be attributed to Eno, who apparently contributes to the general sense of chaos. Caribbean Sunset
was
pencilled in for a CD release in 2001, complete with outtakes, but was mysteriously pulled at the last minute (can anybody shed any light on this?). Incidentally, Ze was founded by Michael Zilkha (heir to the Mothercare fortune) & Michael Estaben (stepson of Lord Lever) who were introduced to one another in 1977 by... John Cale.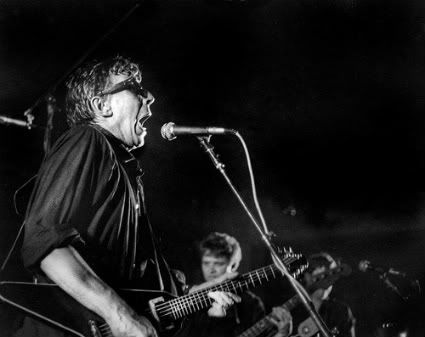 Cale's final Ze release, Comes Alive was again recorded with the Caribbean Sunset line-up as back-up (
sans
Eno). At first glance it looks like one of those tedious "Why bother?"-type contractual obligation jobs: two specially recorded studio tracks (one of which, the opening comedic gambit "Ooh La La", might just be his Worst Song Ever!) bookending the highlights of a February 1984 live set from London's Lyceum. Ignoring the still fresh Caribbean Sunset, Cale reprises a handful of songs from 1979's well-received Sabotage alongside strikingly melodic re-interpretations of a couple of Music For A New Society tracks, an almost
baroque
"Waiting For The Man", & possibly his finest "Heartbreak Hotel"
ever
(& there are plenty to choose from). Stately & sinister, it dispenses with the usual hamfisted Hammer horror theatrics for something far more unsettling, a darkness that lingers long after the song is over. Minor point of interest: the British & American versions of the L.P. contain radically different mixes of the studio tracks (I've no idea which version this upload is I'm afraid). Last time I checked You Tube was a heap of live footage from this era (try "John Cale 1984"), you might want to give it a look...