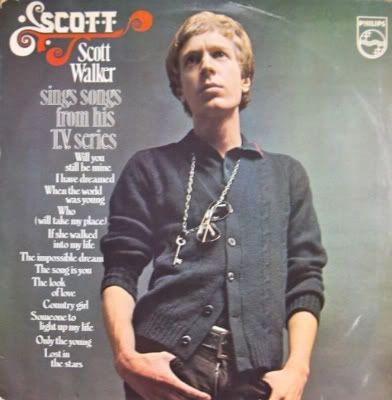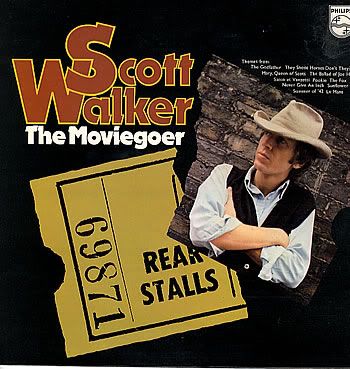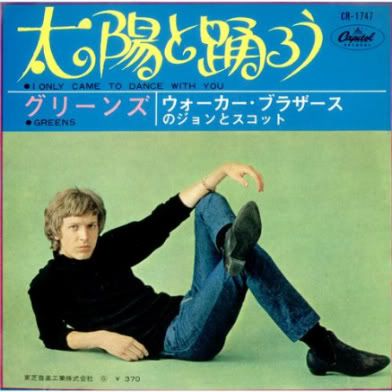 A Festive treat for Gabardine-wrapped, Carnaby Street miserablists everywhere - two of Scott's rarest albums, neither of which you'll find on Amazon anytime soon...
Scott Walker Sings Songs From His T.V. Series has yet to be reissued on CD. Released by Philips 1969 between his classic third & fourth solo albums it's not the neglected masterpiece one might naturally expect, despite it's admirable vintage. It's a needless, compromised throwback to his Walker Brothers' years, a syrupy selection of slushy, pompously-arranged standards that sound like they were picked for him by over-cautious producers keen to placate the Septuagenarian pipe-&-slippers audience that had been so roundly alienated by all that smutty Brel rubbish (
ahem
). Drawing on songwriters as prominent as Charles Azanavour, Bacarach & David, Jerry Herman, Kurt Weill, Rodgers & Hammerstein (but significantly
not
Brel himself) it remains an uncomortable, often cringeworthy listen & it's not difficult to see why Scott might have attempted to block any kind of re-release (a few songs have slipped out on on Mercury's 2005 Classics & Collectables compilation however). Tragically, the entire T.V. series (plus a couple of standalone specials) this collection was cherrypicked from has been wiped by the ever-dependable BBC so there's zero possibility of ever viewing these songs' solitary saving grace, the fantastic period footage. Idiots.
Succeeding 'Til The Band Comes In, 1972's The Moviegoer was briefly reissued in the immediate wake of Fontana's early 90s reissue programme but was quickly withdrawn at Scott's behest (again, a handful of tracks appear on Classics & Collectables). I guess it's understandable that he might not want to be reminded of this era, creatively & personally he was in terrible shape, prepared to sing anything Philips put in front of him providing the fee was ample & the scotch was flowing. Contrary to popular opinion, it's a surprisingly lovely listen in places - Scott is on magnificent form (his vocal technique had definitely matured since his Walkers' heyday), Johnny Franz's production is huskily melancholy rather than garishly overblown, & the selection of cinematic theme songs is
far
from repellent (only the pungent country Stilton of "All His Children" is likely to set one's teeth on edge - dig that atrocious cornball phrasing, it's the one time he lets his stoic professionalism slip to sound as royally pissed off as the indignant sleeve pic implies). Listening to it as I type, at 2am with the lights dimmed & a large glass of wine at hand, it's beginning to sound very seductive indeed. It's no Scott 4 but I still tentatively recommend it...
T.V. / Movie
Links sourced from the now defunct NoMusik blog (thanks).