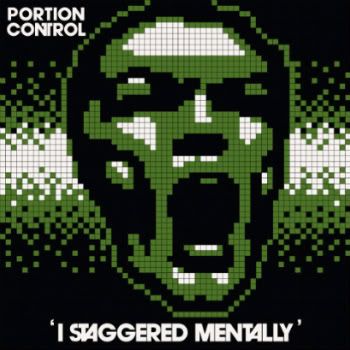 My abiding memory of Portion Control is of being utterly mystified as to how this band - who neither I nor any of my similarly-minded friends had ascertained any concrete knowledge of - had managed to rack up such a vast, multifarious discography, particularly as nobody actually appeared to be
buying
any of it (it just seemed to lurk in record shops, smouldering provocatively, etc). Portion Control singles, albums & cassettes had already achieved something approaching blanket coverage by the time of their inaugural
Peel session
(1983) &
flawed
crossover LP, ...Step Forward (1984). It's disappointing that the former was commissioned so far (relatively) into their career as they'd already sidelined their earlier, harder-edged approach & were moving into more mainstream -
though no less forward looking
- territories (it's a marvellous set nonetheless).
I Staggered Mentally was Portion
Control's
first official album, though they'd issued a fair number of long-playing cassettes beforehand. Released in 1982 on Pat
Bermingham's
Essex-based
In

Phaze
label (also home to The Legendary Pink Dots), it finds them half way between the purely experimental , Cabaret Voltaire-influenced sound of their formative D.I.Y. period & their later, more refined,
EBM
-spawning direction. Though pitiless robotic havoc & tough tribal rhythms still dominate there's an evident emerging sophistication, a result of their pioneering use of Roland's TB-303 bass
synth
& a cautious move beyond the construction of moods & atmospheres towards more convential songwriting forms. That said, I Staggered Mentally remains one of the most brutal & viscerally exciting electronic records I've heard, though it never degenerates into all-out Noise to make it's point. Listening back to them now, I'm pleased to discover that Portion
Control's
landmark records continue to sound
more
extreme &
more
vital than virtually any of the legion of
faux
Industrial acts they ultimately influenced. There still only seems to be one readily available period photograph of them though - the music press would never fail to fall back on this one whenever they saw fit to reluctantly mention them (i.e.
not often enough
) & I'm more than happy to cough it up once again...
In 2006, two decades on from their Psycho-Bod Saves The World swansong (yes, I'm conveniently overlooking their early 90s sojourn as
Solar Enemy
here), Portion Control remastered & reissued all of their vinyl recordings as Archive a 5
xCD
boxset
which you can purchase via their official
website
. Needless to say, it remains an incredible body of work. There's a semi-obsessive
fansite
out there too (with more P.C. photos than I've ever seen before!).