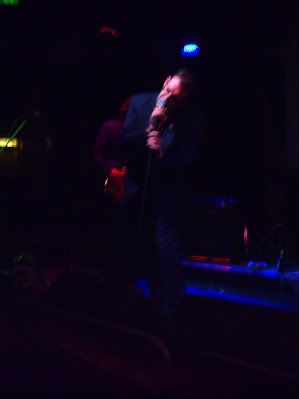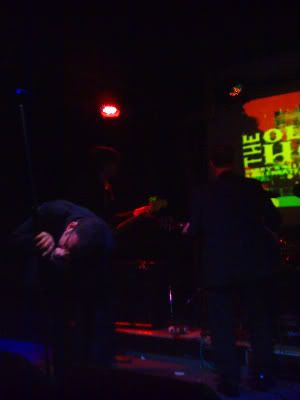 Nipped up the road to Derby, for the second time in 6 months, to see Robert Lloyd's marvellous, regrouped Nightingales &, as per their previous visit, it was another slightly frustrating evening. Drinking my way through 3 (
3!!!
) mismatched support bands (only one of which, the lightheartedly shambolic
Hotpants Romance
, wasn't bile-inducingly rotten), I was verging on
smashed
by the time The Nightingales finally clambered on stage &, by the looks of them, so were they (the preceding, nameless punk throwback outfit obviously having taken their toll though,
typically
, the Friday night audience seemed to prefer
them
to the headliners). If not quite as tight as last time I saw them (that'd be the grog, Bob), The Nightingales were still spot-on - their records simply
do not
do 'em justice. Having said that, last year's Insult To Injury is as good as anything they released in their 80s heyday...
&
it's produced by Faust!
By rights they ought to be as half baked & inspiration-free as The Fall are nowadays - instead they've become a rumbling, Krautrock-worshipping pseudo-Glitter Band, boozily mangling Beefy's Trout Mask Replica as they unceremoniously stagger into middle age. I'm generally very suspicious of bands hitching a lift on the comeback trail but, admirably, The Nightingales' sets are made up largely of current phase material, with just a smattering of fogey-appeasing pre-split "oldies" ("How To Age" was a v.pleasant surprise) & a couple of
controversial
covers (The Troggs & Alvin fucking Stardust, folks!). Fantastic stuff, not that the doleful Derby audience appreciated it one bit. No change
there
then. Rock'n'roll, eh?
N.B. I'll refrain from posting any Nightingales' recordings as everything's still in print (though the Idiot Strength 7" can be a bugger to find). However, there's a live set (recorded while they were supporting The Fall) from last October
here
, & you can purchase their latest, Faust-affiliated,
magnificent
LP
here
.