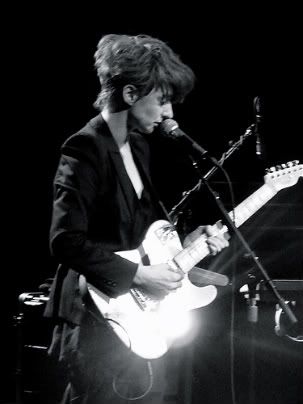 Though she's hardly the "new Ludus" figure
The Quietus
would dearly love her to be, Lonelady (aka Manchester's Julie Campbell) has still managed to rudely shake me awake to the possibility of enjoying new, contemporary music - as opposed to circa '81 period stuff I've not heard before - & that never (well,
rarely
) happens these days. Her debut Nerve Up LP (on Warp, which'll doubtless open a few
interesting
doors for her) is a decent enough showcase, but it's scratchy low-fi sound frequently works against her & does her sharp, abrasive songs few favours. Though I'm generally in favour of that type of austere, minimalist approach - particularly this early in an artist's career when studio-fixated elaboration is often employed as a makeshift cloaking device - it seems slightly detrimental in Campbell's case. Live, as per last night's show at
The Rescue Rooms
here, she's currently far more exciting. Accompanied by an energetic & often thunderous drummer, the economical duo sound of the album immediately becomes a much fiercer, jagged proposition. Fortunately, France's Inter FM coaxed her in for one of it's reknown Black Sessions 0n March 29th - a brief set, as per her current support slots with These New Puritans, including the unexpected cover of The Fall's "Hotel Bloedel" she played here on Monday night. Make the most of her now, before the inevitable, soul-destroying remix frenzy ensues (as per The XX). Oh, &
Morley
's on the case as usual.
Black Session photographs by
Oliver Peel
- thanks / apologies.