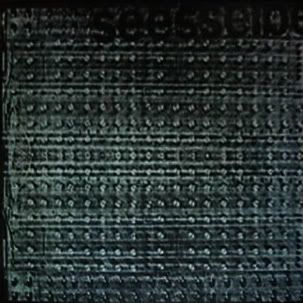 A superb LP of homemade synth & oscillator fart & burble from the "
tweak it & see what happen
s " school, released by German brothers Eckhart & Wolf-J Seesselberg in an edition of 600 on their own, eponymous label back in 1973. Recorded over 3 years at a variety of disparate locations, including a performance at
London's Gallery House
, it's a lost masterpiece of raw & exploratory Kosmiche electronica in the vein of early Kluster/Cluster or Tangerine Dream & pre-empts, certainly, the formative experiments of Throbbing Gristle a couple of years later. I've only recently heard of Seesselberg for the first time, c/o this excellent Youtube clip (the zoned-out German audience are a sight for sore eyes!):
Synthetik 1 is Seesselberg's only release as far as I'm aware, & I'm sure I'm not alone in saying love to hear more if anybody can point me in the right direction...
Synthetik