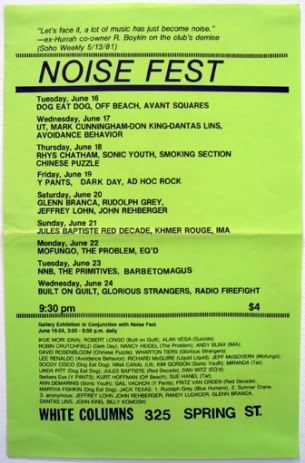 All evidence suggests that this is Sonic Youth's debut live performance. It was taped on 18th June 1981 at
White Columns
gallery, NYC (capacity: 60) as part of Thurston Moore's Noise Fest, excerpts from which were compiled on ZG magazine's subsequent
Noisefest 1981
cassette. Taking place over 9 evenings, other Noise Fest performers included Ut, Glenn Branca, Rhys Chatham, Y-Pants, Mofungo & Rudolph Grey (the file includes a scan of the official press release with full details). The S.Y. line-up here is Thurston (guitar & vocals), Kim Gordon (bass & vocals), Ann DeMarinis (keyboards) & Richard Edson (drums), which provides some indication of just
how
early into their "career" they were. Their sound here is much closer to Ut & the later No Wave bands (particularly Robin Crutchfield-era DNA) than the psychedelic avant rock they're renown for, though there are intermittent hints of their oft-overlooked eponymous debut LP (for Glenn Branca's short-lived Neutral label).
Inspired by the series of 1978 shows (at New York Artists' Space) that culminated in Brian Eno's No New York compilation, Noise Fest itself spawned Live Skull & friends' similarly-themed
Speed Trails
showcase in 1983, portions of which were released as a Homestead LP the following year.
1981