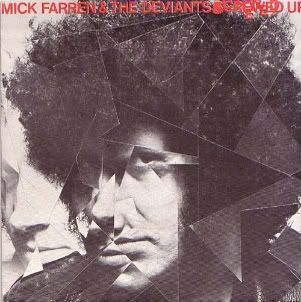 A slew of cracking late 70s entries from Baron Farren, self-facilitating late
60s
counter culture media node & savvy off-his-trolley gobshite - ex-International Times, ex-Deviants, ex-White Panthers, ex-Nasty Tales, ex-New Musical Express (see "The Titanic Sails At Dawn"), Phun City founder, formidable novelist (20+ at the last count) & prolific biographer (including
4
on Elvis Presley), proto-punk catalyst & rampant self-promoter. His anarchic, drug-sodden, subversive Ladbroke Grove exploits remain (
quite rightly
) legendary, & his recollections of those insane times, collected in Only Anarchists Are Pretty, are an indispensable read. The minutiae of his personal history is so spectacularly labyrinthine that even an abridged precis would have you scrolling wearily through several dozen feet of cross-eyed blogroll, but this
Your Flesh
profile is a good place to start. As is his personal blog,
Doc 40
.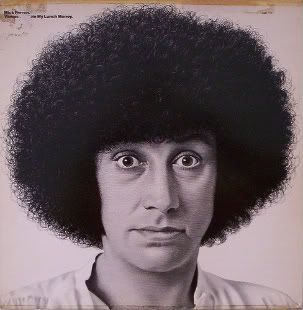 Post-
Deviants
, & reignited by the emergent London punk scene, Farren's rough & ready Screwed Up E.P. appeared on Stiff in 1977 (yellow vinyl,
naturally
). It was his first full-on release since the 60's ground to a such a messy halt & inconclusive halt, 1976's tentative (but nonetheless
great
) "Play With Fire" 45 (on Ork) notwithstanding. For the uninitiated, Screwed Up includes a re-recorded "Let's Loot The Supermarket" that leaves The Deviants' original (from Disposable) coughing up hairballs. Vampires Stole My Lunch Money followed a year later on Logo & is a gutter-surfing, nihilist masterpiece, a bawdy
celebration
of Farren's self-destructive social life, all told. It's certainly the Farren record I listen to most & is, in places, as ferocious & primordial as anything The Deviants scrawled their name across (but then,
all
of this stuff is). Shamefully, Vampires... has only been reissued once to my knowledge, as a scarce & expensive Captain Trip CD in 1998. The stellar backing band includes Larry Wallis, Wilko Johnson (on
amazing
form), Chrissie Hynde & (Curved Air's) Sonja Kristen, & the entire album - not quite punk, not quite heavy metal, but totally "
fuck you
" - sounds as thoroughly pissed off, irreverent (&
relevant
) as it ever did, & it's frankly outrageous that it's been allowed to slip out of print. Musical fads may come & go, but this kind of searing, visionary spleen-venting never goes out of fashion - crucially, Farren understands that the simplest & most effective method of
deconstruction
is with a single, well-placed housebrick. 1979's non-LP "Broken Statue" 7" (Logo) brought his brief solo tenure to an end, a Deviants' regrouping already in his crosshairs. It is, needless to say, borderline barmy, successfully marrying Beefheart, early Dr. Feelgood & Lester Bangs into a malicious, mangled boogie. Perhaps I'm hyperventilating over nothing more than above-average pub rock, Farren & co. certainly spent a lot of time
in
pubs afterall, but there's no denying that there's a deeper, dissolute honesty & anger present here that's absent in so much current music, rock or otherwise. If you're voting on 6th May but consider the current options utterly toe curling, perhaps make a point of spoiling your ballot paper with a big, ugly "FARREN!" instead?