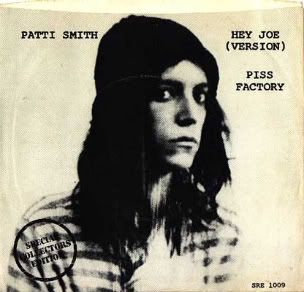 On the off chance you've not heard it before (it's a nightmare to track down afterall), here's Patti Smith's cover (of Jimi Hendrix's cover of The Leaves' cover) of Billy Roberts' "Hey Joe". Her debut, it was recorded at Electric Ladyland in 1974 in glorious mono, financed by her long-term confidante Robert Mapplethorpe, & released through their own Mer label. Her group at this point consisted of Lenny Kaye (guitar), Tom Verlaine (guitar) & Richard Sohl (piano), with Kaye also bagging the production credit. The b-side is the better known,
arguably
superior "Piss Factory", Patti's semi-autobiographical, semi-Surrealistic detailing of woeful factory assembly line travail. Though an outstanding track, "Piss Factory" is easily obtainable c/o the Land compilation so I'm not including it here. Satisfyingly, both sides of the 7" have retained their propensity to astonish, their allusions to Patty Heart, the S.L.A. & Rimbaud, combined with the singularly baroque sound, defiantly placing the group well outside the early 70s, Eagles-inhabited "
rock
" enclosure. One of the greatest singles
ever
, basically.