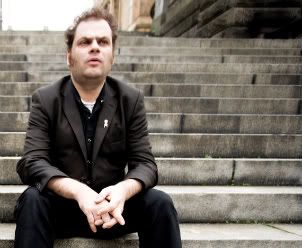 Continuing the techno/psychedelia
crossover
, I've just unearthed this intriguing hook-up between spaced-out Japanese metallers
Boris
& JD Twitch, one half of Glasgow's ever-versatile
Optimo
(who seem as happy remixing Flux Of Pink Indians 7"s as they are DJ-ing back-to-back with Ivan Smagghe these days). Commissioned as part of
Scion
's A/V remix project (it's called "
doing a corporate
" I believe?), it actually dates from last August so I've been dismally slow on the uptake this time 'round. Twitch's overhaul is characteristically radical: "Buzz In" originally appeared on Boris' Smile LP in standard "rock" form. His remix dispenses with practically the entire track, rendering it virtually unrecognisable while tripling it's length. I'm only a couple of plays into it as I type & am not quite sure what I make of it yet, it's certainly rather
euphoric
. First impressions? I'm vaguely reminded of the KLF -
not sure why!
- & I'd definitely be much happier if the final minute of Fennesz-esque electro-ambient wash was an hour or so longer. Am sure it makes much more sense on a massive system so, as I'm off to see Twitch
here
tonight, fingers crossed he'll do the honours? Tally ho.