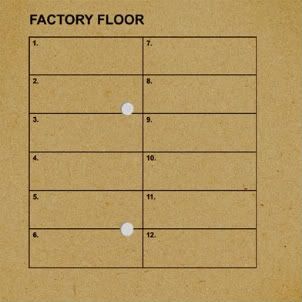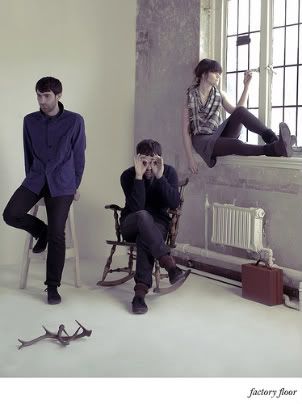 "
East London post punk posers
" Factory Floor seem pretty much ubiquitous at present. They've already toured with Liars, Cold Cave, The Horrors & (
splutter
) Fuck Buttons, & both The Guardian & NME were quick to pick up on them & enthusiastically sing their praises (at inordinate length). I await their worryingly foreordained appearance on Later... with a sense of impending doom. Though I'd normally be gravely concerned by delirious hype from such dubious quarters, Factory Floor seem sufficiently ambitious, talented, & no-nonsense that I'm confident they'll eventually shake off the hangers-on. They're currently in bed with Blast First Petite & seem intent on pursuing a much more brutal, electronic/Industrial direction (with remixes by Chris Carter & New Order's Steven Morris in the offing) than the guitar-driven angularity of their earlier, post punk-referencing recordings. Either way, it's hardly the sort of thing to endear them to T4's numbskull audience &,
thereby
, I'm not prepared to write Factory Floor off as fly-by-night hipster fodder just yet.
Typically, it's those earlier releases that I'm slightly more fond of, particularly last year's excellent Planning Application 12" (out of print in theory, but still up for grabs if you turn over a few rocks). 2008's Bipolar was their debut, a swiftly deleted single on their own Outside Sound label. An edition of 500 orange vinyl 7"s, it's already long gone.