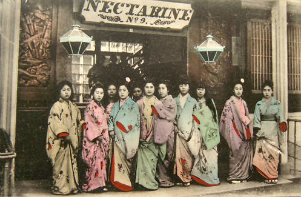 The Nectarine No.9 have been back on the playlist 'round here recently, I'm pleased to announce. The brainchild of
Fire Engines
visionary Davey Henderson, & an understandably laconic reaction to his painful major label tribulations with the
massively
underrated
Win
in the late 80s (there's an alternate universe out there somewhere where Win are as gargantuan as U2 y'know), The Nectarine No.9's puzzling commercial failure remains one of the 1990s' great musical anomalies. Initially bankrolled by Alan Horne's Postcard label during it's brief rejuvenation in the mid 90s, & knee-deep in critical plaudits, The Nectarine No.9 seemed like surefire contenders for Official Coolest Band In The World Ever, their V.U. / Van Vliet / Bill Burroughs-instilled art school glam rock deadset -
in theory
, at least - on satiating both Mr. Mojo Reader & Ms. Artrocker Hipster alike. Sadly, 'twas not to be, & following a decade's worth of often tremendous (but totally ignored) LPs, Henderson & co. finally seemed to lose heart & admit defeat. Their final album,
I Love Total Destruction
(
harumph!
), remains one of their finest but limped into the nation's weather beaten record shops almost apologetically (or so it seemed). The band had already ceased to exist by the time "Hanging Around", one of the LPs most accessible songs, had been overhauled & readied for single release. It's projected flip, a rough 'n' ready stagger through a Sun Ra classic, still sounds marvellously deranged. As far as I can surmise, the single only ever existed in promo form, copies of which can occasionally by found on eBay for mere pence (
tsk
). As a swansong it's surprisingly upbeat & celebratory, & provides a seamless segue into Henderson's current outfit,
The Sexual Objects
, who are essentially more of the same musically but with a heavier emphasis on Bolan & early Modern Lovers. As with all of Henderson's bands to date, long term collaborators from his Fire Engines, Win & The Nectarine No.9 remain steadfastly on board. The handful of limited edition 7"s they've released to date have all immediately sold out, & supposition suggests that they're preparing an LP as we speak - don't miss out
again
will you?
P.S. Whatever happened to Jock Scot?