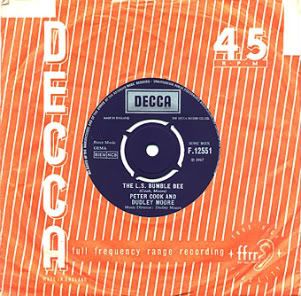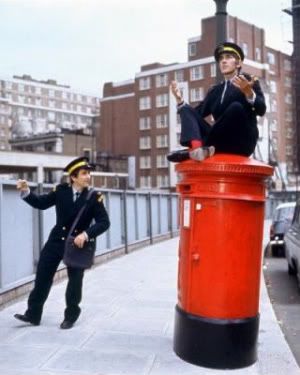 Just when you thought the 1960s couldn't get any
stranger
... Have a listen to this brilliant & hilarious 7" from messers Cook & Moore (aka Derek & Clive), recorded in late '66 for their
Not Only... But Also...
Christmas special & released early the following year (around the same time as they were filming their appearance in Stanley Donen's Bedazzled in fact). Hanging around Cook's wildly popular comedy club, The Establishment, the duo evidently witnessed mid 60s London at it's most swingingest, hence their satire of English kaleidoscopic whimsy is absolutely bang-on target ("
Oh, druggy druggy, freak out, bab
y" - God knows what Decca must've thought!). That said, it actually pre-dates Sgt. Pepper by at least 6 months, & Moore has claimed that it was actually intended as a parody of Pet Sounds-era Beach Boys rather than paisley-decked, acid-steeped psychedelic London. Surprisingly "The L.S. Bumblebee" failed to chart, & was in & out of print so quickly that by the mid 70s bootleggers were attempting to pass it off as a Beatles out-take!