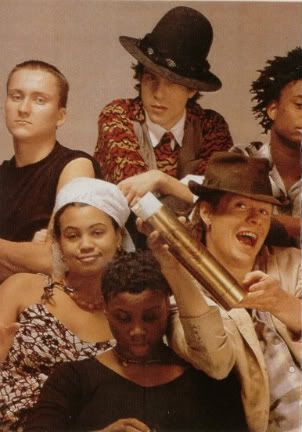 They say one's mental faculties are the first thing to go &, as I get older & increasingly jaded, Rip Rig + Panic begin to make more & more sense. I dunno if I'm comfortable with that or not...
I can remember RR+P being all over the music press when I was a kid - they even made it into Smash Hits I think? - but I have to shamefacedly concede that I only got 'round to listening to them a decade or so ago. "Go, Go, Go! (This Is It") was their 1981 debut, a 7" on Virgin, & though not quite as out
there
as they later ventured it remains a stupefying matrimony of The Face's
Hard Times
funk agenda & Albert Ayler's ESP skronk. It's a fantastic bloody mess, a full-on voodoo invocation almost, God bless Branson for pulling his wallet out & granting
Gareth Sager
& co. day release from whichever high security retreat they were doing time in to record it. The b-side's called "The Ultimate In Fun (Is Going To The Disco With My Baby)", a title that still virtually drips with sarcasm. And the sleeve illo's a saucy little number by some guy called Leonardo Da Vinci (he's like Banksy but older).
RR+P's entire back catalogue has finally been reissued, albeit only digitally c/o iDoom, et al. 99p a track seems a bit rich however, so I'd perhaps suggest that you use the snippets available on there to assess whether RR+P are your thing or not, & then hunt down all the original vinyl via eBay (most of it pops up quite frequently). Accordingly, next time you see Sager propping up the bar in some tatty London boozer, buy him a pint or 3 to balance the books royalties-wise.
P.S. I've just amended
this
post from way back & updated the links to include the extended 12" mix (it's not included with the current reissues).