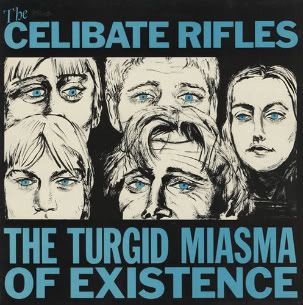 Y'know that awful dawning of grim realisation when, on a mission to retrieve something from a rarely frequented corner of your record collection, you realise that you actually parted with
that album that you need to hear right now
several years ago? I've just experienced that horrible feeling with reference to The Celibate Rifles. I had virtually their entire back catalogue stashed away back in the 90s but, during an exploratory delve a few days ago, I discovered that I'd flogged the lot at some point & have no idea when or why. All I've got left is their ace live LP,
Kiss Kiss Bang Bang
("
blistering
", as they say). Gutted.
Fortunately, I've found a rip of The Turgid Miasma Of Existence squirrelled away on my hard drive. Released on Hot in 1986, it's probably my favourite of their (14 or so) studio albums, evenly split between hi-NRG MC5 / Radio Birdman proto-punk thrashers & hallucinatory, droned-out ballads (a sound Yo La Tengo would get to
serious
grips with a few years later). Initial copies came with an additional 3-song 7", eventually compiled on the
Platters Du Jour
retrospective, I believe? Response in the U.S. was sufficiently positive that the band decided to get out of Sydney & book themselves their debut tour there, culminating in the incendiary CBGB's show that makes up that aforementioned live album. I was lucky enough to see them live, just the once, in 1987 around the time of Roman Beach party LP, & it was quite a night! Two solid hours of non-stop short/sharp "hits" interspersed with countless dry one-liners & insane amounts of booze (
snakebite
, no doubt), after which I fell asleep in a car park. The majority of their back catalogue is pretty difficult to aquire nowadays, so don't dither if you spot Sideroxylon, Les Fusiles Célibataires or Roman Beach Party gathering gust in a 2nd hand rack somewhere, raid your coffers & buy 'em.
LINK REMOVED:
Hot Records have since reissued this album on CD, with additional tracks, etc.