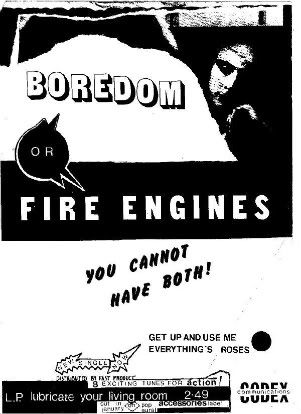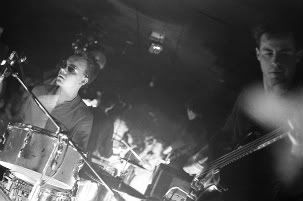 Fire Engines' 2nd session 1981 for John Peel is all over the 'net but their debut appears to have slipped off the radar. Recorded on 23rd February with Tony Wilson ("
another one
") at the desk, it's 4 frenetic blasts of Warholian blang & yelp are actually even
more
feral than their officially released counterparts, no doubt because (in the enduring spirit of the Peel session) they were performed live in the studio,
sans
overdubbing & with only a modicum of post-production.
The better known half of this set, "Discord" & "Candyskin" (both much more abrasive than their more familiar Pop:Aural incarnations), was released as a limited edition 7" by Domino on the 25th anniversary of their original broadcast (9th March 1981, pedants). The ferocious cover of Heaven 17's "(We Don't Need This) Fascist Groove Thang" appeared on
Rev-Ola
's long unavailable Fond compilation back in 1992, but was omitted from Acute's otherwise complete Hungry Beat collection (
why?
). Interestingly, the remaining untitled song (aka "The Untitled One" aka "No Time To Lose") has never been released officially. As Fire Engines songs go it's
relatively
upfront & linear, an enthusiastically amateurist D.I.Y. pop song basically, & would've made a terrific single. "Candyskin" promptly swaggered along & changed all that of course, & perhaps that's why it's remained in the archives for so long? Apologies for the
slightly
ropey quality btw, 3/4's of this have been mastered from a 25 year old Scotch cassette...
Their unclassifiable
2nd
session. since disowned as an embarrassing failure by foremost Fire Engine Davey Henderson, is available
here
c/o Cliff Richard's Neck. It sounds
nothing
like their earlier recordings but, despite what you may have heard or assumed, is as equally uncommercial - a queasy marriage of A Certain Ratio & The Magic Band
I think
. Both sets are crying out for immediate release, as are Orange Juice's slew of early 80s BBC recordings (commissioned by all manner of highly uncool evening DJs, not just our lord J.P.).
Get it sorted
Domino.