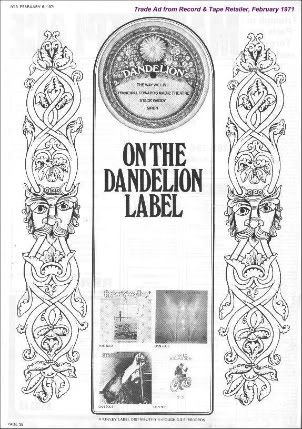 I first heard this one on John Peel's show in the mid '90s (
surprise, surprise
). He'd dug it out, if I remember correctly, to highlight similarities with the work of Will Oldham's Palace, who were enjoying the zenith of their hipster kudos at the time (circa Viva Last Blues, etc). Peel certainly had a point, "His Guiding Hand" radiates a fragile rural simplicity that echoes Oldham's less
priapic
work & belies Medicine Head's dubious sartorial splendour: stoned & bearded polytechnic undergrads from the real ale society essentially (hey, it was a good look in 1970). Listening to it again now I can see why it promptly struck a chord with me, it still sounds
peculiarly
contemporary, far better than the majority of the studiously rustic,
achingly devotional
pseudo-folkies who have sprung up in the wake of Oldham & Alasdair Roberts. Released fleetingly as a 7" for Peel's own
Dandelion
label, both songs here quickly re-appeared on the band's debut LP, New Bottles Old Medicine. Said album is definitely worth tracking down, but for me it's these 2 tracks that capture that intangible "
something"
.
Hailing from galmourous Stafford, Medicine Head were an unorthodox duo of
John Fiddler
(vocals, guitar, piano, drums) &
Peter Hope-Evans
(harmonica, jew's harp, mouthbow), though they did relent & employ additional musicians later in their career. Though their anterior releases sank without trace, their subsequent "(And The) Pictures In The Sky" single scored Dandelion's only UK chart entry - #22 in 1971. They also released an album titled The Dark Of The Moon an entire year prior to Pink Floyd's hardy perennial - coincidence? I think
not
.
Along with similarly schismatic bands like The Way We Live / Tractor, & Stackwaddy, Medicine Head spearheaded a largely forgotten (
some
might say 2nd division), Peel-championed strand of the early 1970s British folk / blues underground that
Mojo
& the rest of the 60s/70s nostalgia industry have yet to adequately address. For the record, I'd rather gouge my eyes out with a butter knife than read any more Fab 4, Floyd or Zep re-appraisals, thanks very much - 20 pages on Dandelion would be
very
welcome, however!