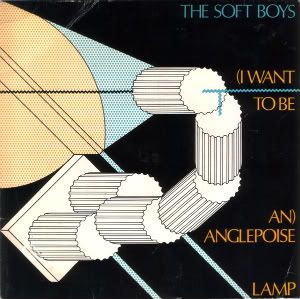 Now then, though I've never been a fully paid-up acolyte of The Church Of
Robyn Hitchcock
, there's no denying that The Soft Boys knocked out a freakishly decent album or 2. The majority of their back catalogue has recently been reissued again, c/o
Yep Roc
this time 'round. However, despite a plethora of (download only) bonus tracks, the band's vital early singles have once again been overlooked - is Robyn making a concerted effort to distance himself from them, or what? The 2nd, 1978's "(I Want To Be An) Anglepoise Lamp" on Radar, is arguably one of their finer moments - a near-perfect compound of lysergic Barrett-fuelled psych/wonk & Python-esque suburban Surrealism that neatly condenses the first 4 XTC albums into a single, surging 3 minute power pop blipvert. It still sounds terribly exciting, 30-odd years later, & Robyn's mock rock grunt (36 seconds in) never fails to make me smirk. First-rate Barney Bubbles sleeve too.
Though many of The Softs' initial sessions exhibited little more than a lingering comedic debt to
The Bonzo Dog Doo-Dah Band
& a surfeit of borderline annoying undergraduate humour (
particularly
live), it's perhaps only fair to put them into the glum pre-punk context of Cambridge c.1975 & imagine how fresh an alternative their deviant music hall whimsy must've provided back then, for hungry music lovers driven to lemming-like
seppuku
by the soporific drivel of Jackson Browne & The Eagles, et al. Ultimately, the flab-free rush of "Anglepoise" & the sinister Magic Band boogaloo of it's B-side, "Fatman's Son", atone for any earlier, rhetorical indiscretions, ditto A Can Of Bees' fearsome angularity. Crucially, Robyn's songs have always suggested that his eccentricities were/are, on the whole, genuine, whereas the gurning smart arses who followed in his wake (
a.n.d.y.p.a.r.t.r.i.d.g.e.
) always looked & sounded as if they were trying
w-a-y
too hard.
I'm sure it goes without saying that Underwater Moonlight is one of the best LPs of the immediate post-punk era, but give the lesser known
Invisible Hits
a listen too - despite it's somewhat impromptu nature, it's actually a beast of an album.