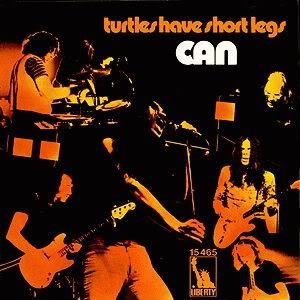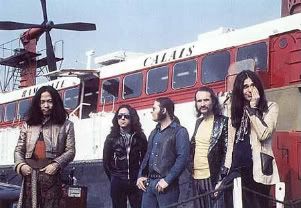 Despite
Can
ascending to near deity status over the course of the last decade, it's surprising how few people know about this uncharacteristically daft 7". Recorded during the Tago Mago sessions & released on Liberty in 1971, it's sufficiently odd to suggest that both band & label realised Can's only opportunity for blagging a little chart action would be via the "weird" novelty hit route. "Turtles Have Short Legs"could, I guess, be ranked alongside similarly peculiar early 70s smashes like
"Mouldy Old Dough"
&
"Popcorn"
though, typically, Can's effort failed to chart
anywhere
. Intriguingly, though it was recorded in 1971, it actually sounds as if it might've been extracted from one of their far later Virgin-era LPs, the humdrum Flow Motion for instance? Incidentally, there's a marginally longer alternate mix of "Turtles Have Short Legs" doing the 'rounds on various bootlegs.
The B-side is a savagely truncated version of Tago Mago's "Halleluwah" suite, pared down from 18+ mins to just over 3. Bizarrely, it still sounds great & has never been reissued in this form to my knowledge (
schnell!
). It's the groovy mid-section that sounds like a listless, flower power Happy Mondays loping around a psychedelic bierkeller that made the cut, of course
.
Apparently
there's a 3 minute edit of "Future Days" on the b-side of UA's seldom seen
"Moonshake"
7" - anybody heard it?