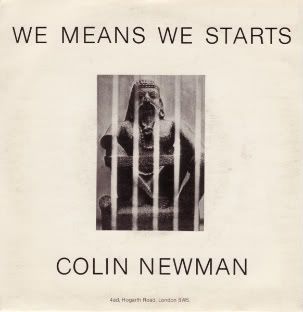 Virtually impossible to locate nowadays,
Colin Newman
's "We Means We Starts" 7" was released by 4AD in 1982, in-between his Provisionally Entitled The Singing Fish & Not To LPs. "We Means...", with it's honeyed guitar-led pop sensibilities & crafty lyrical abstractions, explicitly pre-figures the reconciled
Wire'
s 1988 nearly-hit
"Kidney Bingos"
& would doubtless have been one of Not To's highlights if Newman had seen fit to include it. The B-side is a remixed version of that album's mellifluous title track & is possibly my favourite of all his solo recordings.
Both songs reappeared (
briefly
) in the late 80s when 4AD reissued both of Newman's LPs as a single CD. The 1st 3000 copies included
CN1
, an interesting "6-track companion" EP that rounded up various period outtakes omitted from the packed-out 2-fer reissue due to inevitable time constraints. Anyone interested in Newman's solo work, or Wire's Mute era, will definitely appreciate it.